Top Gift Ideas
Share the gift of nature with your family and friends this holiday season! We have a variety of gift choices perfect for any nature lover - bird feeders, pole systems, bird houses, and some extra special nature related gifts. Not sure what to get but know the person you're buying for loves birds and nature? - how about a WBU gift card or yearly membership? We also offer gift wrapping free of charge! A one-stop shop for all your gift giving!
Check our What's New page to see all our new products and more great gift ideas! Many items are available to order online at MyWBU.com/guelph. If there is an item you can't find online we can always add it to an online order. Just phone the store at 519-821-2473 and let us know what you are interested in - we would be happy to help!
Share the Joy Boxes: Our "Share the Joy" gift boxes make it easy to share nature with your friends and loved ones. Each gift box comes with bird feeder, food and accessories all wrapped up in tissue paper in a beautiful box with a postcard describing the contents of this joyful gift.
Share the Joy Hot Woodpecker Box includes - a suet Cylinder feeder, Hot Pepper No-melt Supersuet™ Cylinder, and our EZ-Fill Suet cage with a Hot Pepper Supersuet™
Share the Joy Hummingbird Feeder: Everyone loves the hummingbirds. The Hummingbird Share the Joy box comes with a WBU nectar bottle, WBU nectar port brush, a bag of WBU nectar and a WBU small high perch hummingbird feeder.
Small, large, window & hand-held feeders also available to buy separately. Our WBU feeders have a built in ant moat and come with a lifetime guarantee. See all our nectar feeders (including our WBU Oriole feeder by clicking here!)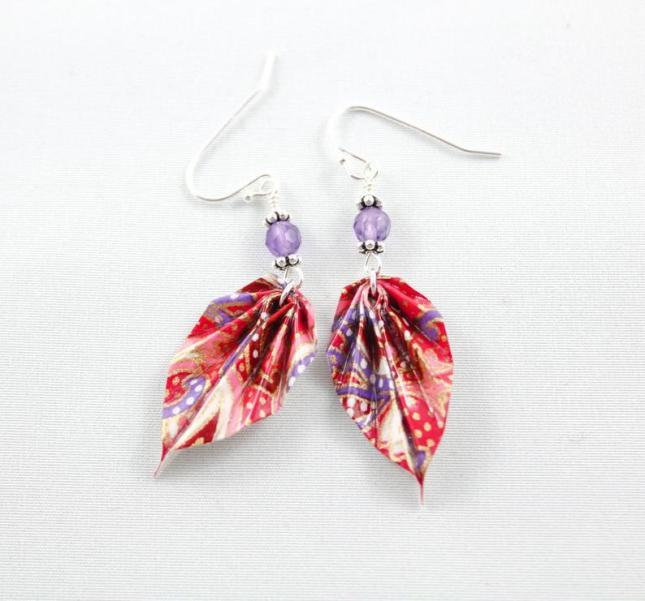 FoldIT Creations Jewelry: These beautiful & unique handmade origami earrings and pins are carefully made with fine Japanese papers using the art of origami. Made in Toronto - they make the perfect, one-of-a-kind gift!
Earrings are available in folded leaf designs - Book Worm, Blue Leaf & Red & Purple Leaf. The origami, folded earrings are made from 100% Japanese Washi paper then coated in 5 coats of polymer. The metal used is nickel free.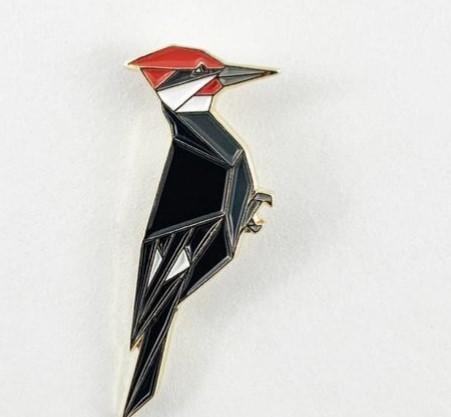 Pins: Available in the following North American birds - Canada Goose, Northern Flicker & Pileated Woodpecker. More designs coming soon! Add a favourite bird to a binocular or camera strap, jacket or backpack. A beautiful locally-made gift - perfect as a stocking stuffer!
Scramble Squares Puzzles: These puzzles may only have 9 pieces but they are perhaps the World's most challenging puzzle! Available in assorted designs! Makes a great stocking stuffer and fun to do as a whole family! Challenge each other to see how long it takes too!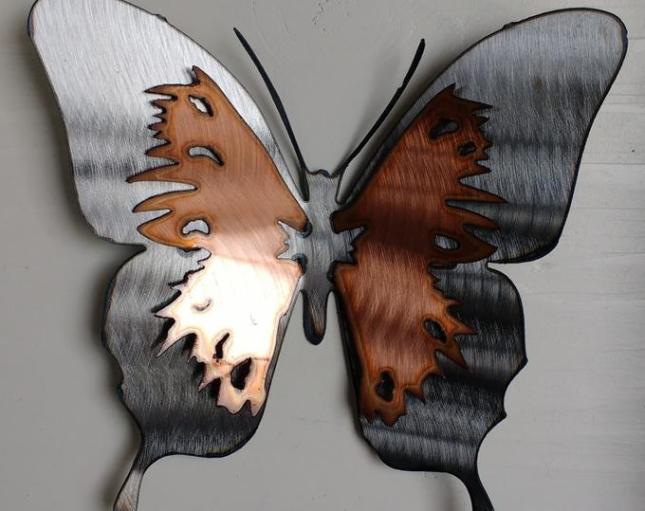 Metal Wall Art: These beautiful pieces of artwork are designed using hand-ground copper & steel. They are sealed to help prevent rusting & scratches. A variety of styles and sizes are available including butterflies, 2 sizes (shown), dragonfly, cardinal in tree, chickadee, chickadee in tree & a two pack of small hummingbirds.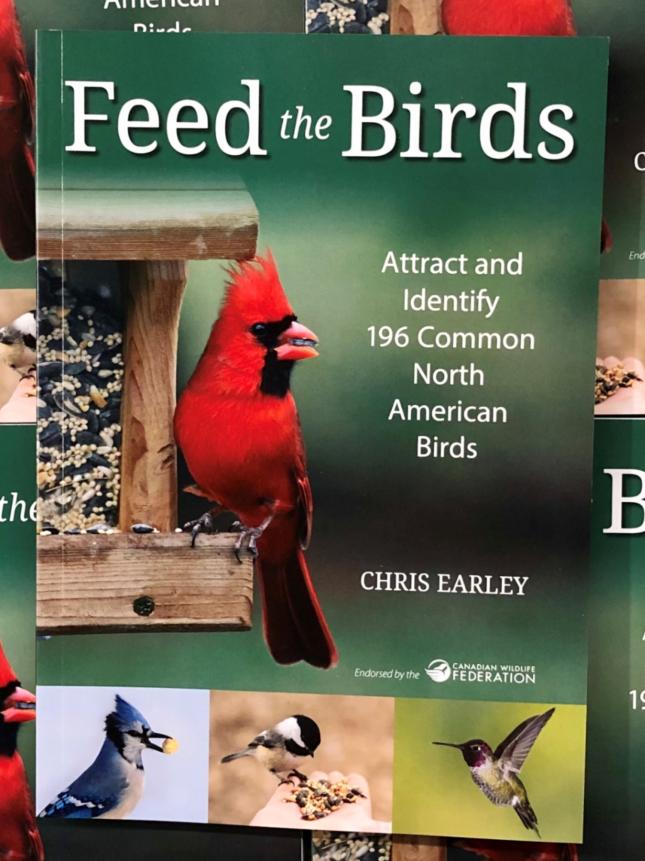 Feed the Birds: This great resource offers detail on 196 bird species that are attracted to backyard feeders. Learn about attracting birds to your backyard, bird behaviour & adaptations to the environment. Wonderful photographs help guide both the beginner and more experienced birdwatcher and backyard bird feeder. Written by Chris Earley - zoologist & environmental biologist. He is the Interpretative Biologist & Education Coordinator at The Arboretum , University of Guelph.Add this book to your birding resource library! Would make a great gift for the bird enthusiast in your life too!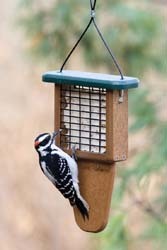 Eco Tail Prop Feeders: The EcoTough® Single Tail Prop Suet Feeder lets birds eat in a natural way. The paddle simulates a tree trunk and offers birds a place to prop their tail while they feed. The Single Tail Prop holds one suet cake, is easy to fill and hangs anywhere. This gift keeps on giving all year round too! Woodpeckers are here year round - enjoy them during the winter when this high energy food is needed to keep warm. In the Spring enjoy seeing the young arrive with their Dads to learn all about the reliable food you have to offer! Choose from a single tail prop or a Pileated Tail Prop big enough to accommodate the largest of our woodpeckers (the Pileated) and two suet cakes!
Available styles include: EcoTough Single Tail Prop (see photo), Pileated Tail Prop, Modern Rustic Tail Prop, and FeatherWeight Tail Prop.
EcoTough feeders and houses are environmentally friendly, high quality products that are made from recycled plastic milk jugs. EcoTough® feeder material won't rot, crack, fade or warp like wood can. They also come with limited lifetime guarantees.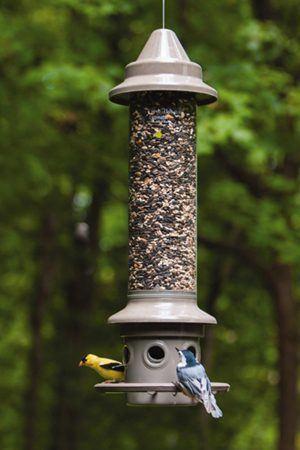 WBU Eliminator: Protect your bird seed bounty from squirrels with our Eliminator™ bird feeder. When a squirrel touches the perch ring, its weight closes the seed ports, foiling its seed-stealing plot. The Eliminator's unique technology allows you to set the sensitivity level, so you can also exclude large birds such as pigeons or doves. The special perch ring allows birds such as cardinals or grosbeaks to eat from a more comfortable position. It is easy to hang and has a large seed capacity. Foil the squirrels, feed the birds! What a great gift for the backyard bird feeder.
This feeder also features a special seed ventilation system that helps keep seed fresher and key parts are made from a special chew-proof material to help keep squirrels at bay. The Eliminator can be disassembled and assembled with no tools, and all of its parts are top shelf dishwasher safe. It also comes with a limited lifetime guarantee!
Combo Idea: Add an Eliminator Weather Guard to help protect seed from the elements. Use a Pole Adaptor to mount the Eliminator to the top of our Advanced Pole System (APS) instead of hanging from a hook. (Both sold separately).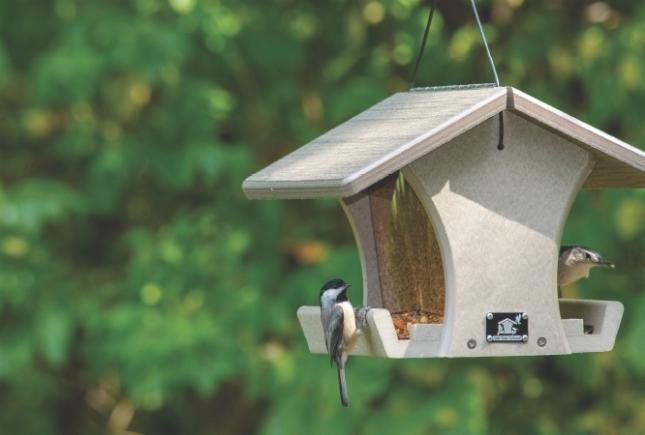 Modern Rustic style Feeders: This new line of recycled material feeders have been designed with a natural wood print. The style comes in a hopper feeder, tray feeder for the APS pole system & tail prop feeder for woodpeckers to enjoy one of our great line of high-energy suet blocks.
Loops & Lattes Hiking Guides by Nicola Ross: Nicola Ross Loops & Lattes hiking guides offer a great way to escape into nature. There are 6 guides available. Her 5th guide - Waterloo, Wellington & Guelph proved extremely popular! Her latest copy - just arrived in store - Collingwood, the Blue Mountains & Beaver Valley Hikes offers 35 loop routes to enjoy. Share nature with someone this holiday season with one of these books of complete someone's set.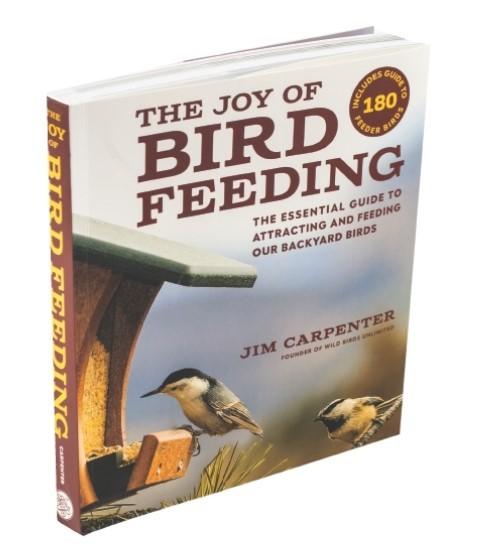 The Joy of Bird Feeding - filled with useful information and illustrated with more than 800 images and 180 maps, The Joy of Bird Feeding is the essential guide for anyone who loves to feed the birds. Written by Jim Carpenter, founder and president of Wild Birds Unlimited! Perfect for any backyard bird enthusiast!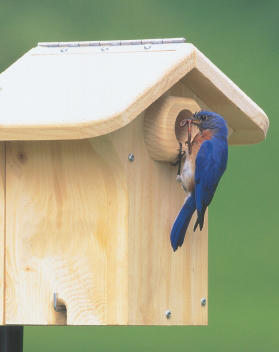 Nesting Box or Winter Roosting Box: Welcome the birds into your yard this spring with a nesting box! We can help you choose the best one for your needs whether you live in the country and would love to attract bluebirds or tree swallows or perhaps you love your chickadees and want to help them find the perfect home for their family this year! Nesting boxes come in wood or EcoTough material, with hanging or pole mounting options. The Winter Roosting Box is ideal all winter as a warm place for the birds to rest and converts into a Bluebird box for the spring & Summer!
Combo Idea: Buy pole-mounting hardware for your new bird house & nesting material for the birds to use all spring and summer. Check out more nesting products and how to choose the best bird house for your birds here.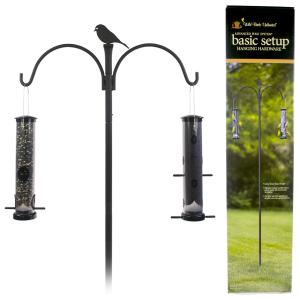 Advanced Pole System - Boxed Pole Setup: Our exclusive, patented Advanced Pole System® (APS) Basic Setup is the perfect beginning to your ultimate bird feeding and/or watering station designed to meet your own individual needs. The basic Boxed Pole Setup includes a 4-foot base pole (with corkscrew auger), stabilizer feet, a 4-foot extension pole a double-crook arm for hanging two feeders and a chickadee finial for the top.
Combo Idea: Add to the system with extra hardware including hooks, perch branches, branch holders and EZ-attach arms can be added to personalize the system. A perfect gift if they already have the pole system but want to add another hook or perching space. Make sure the seed belongs to the birds not the squirrels by adding a baffle too!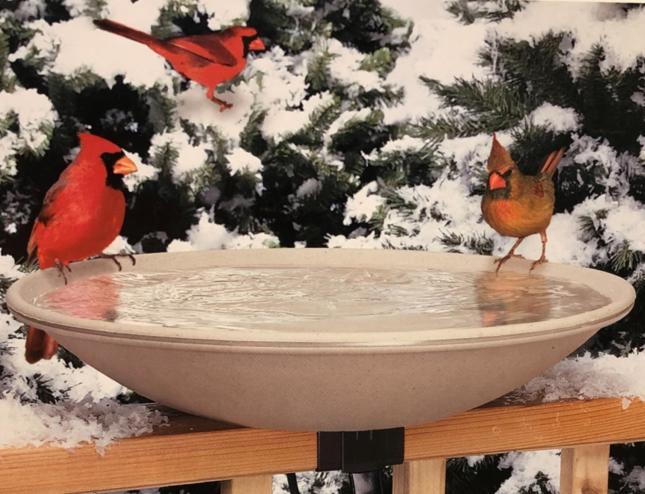 Bird Baths: Providing your birds with a place to drink and clean their feathers is vital for their health and is an essential addition to any backyard habitat. The birds that visit your feeders will love taking advantage of the water. Heated bird baths are perfect during the colder months, keeping an open source of water for your birds. As an added bonus the birds that don't normally come to your feeders, like American Robins, love to take baths!
Combo Idea: Keep the bird bath clean for the birds with a scrubber brush.
Solmate Socks: Add some 'Solmate' to your step with these mismatched, multicoloured socks!! Made from recycled fabric waste comprised of production scraps & used clothing. We have added in some new, funky colours including Aloe, Mirage, Foxtail, Rainbow, Sandstone, Evergreen & this very cool Canada design (pictured here)! Come and check them all out! Life's too short for matching socks!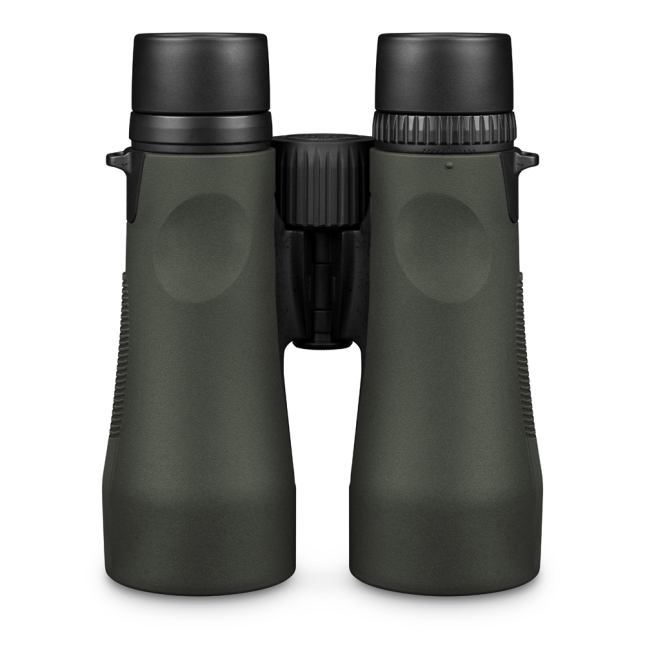 Binoculars: We stock a variety of binoculars and scopes to provide top quality, up-close views of the birds in your backyard, on the trail or across the pond! Come in, talk to our experts and find the best binocular for yourself or as a gift! In stock brands include Vortex, Swarovski and Celestron. Come and try out a pair - our staff will help you choose the best one for your needs.
Combo Idea: Take the weight off by using a Binocular Harness - the weight is distributed and gives your neck a break on those nature trail walks! One size fits all, easy to attach and adjustable.
Tilley Socks & Hats: A perfect choice for all year travelling!! Choose from our winter hats (they come with fold down flaps to protect your ears from the cold) or a summer hate with 50+ sun protection. Your feet need Tilley too! Travel socks, walking socks and anklets!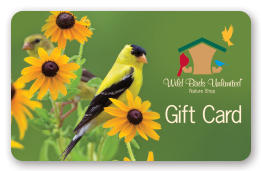 WBU Gift Card: Looking for a gift for the bird lover that has everything? Not sure what they have or what they need? Every nature lover is different, so finding the ideal gift for him or her can be difficult. That's why our Gift Cards are perfect for every occasion. They allow your friend or loved one to choose what part of nature he or she wants to enjoy. They can be loaded with any dollar amount.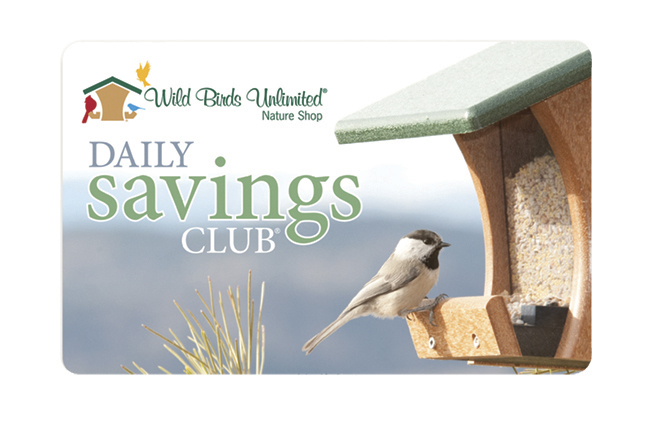 WBU Membership: The gift that keeps on giving all year. Not sure what to get the bird lover in your life? Why not buy a membership. The membership costs $25 for the year and your recipient will save 15% on food items all year long. They also get a $10 coupon every time they spend $200 in the store. We will provide a Gift of Membership certificate for you to include with the free mug that comes with the membership.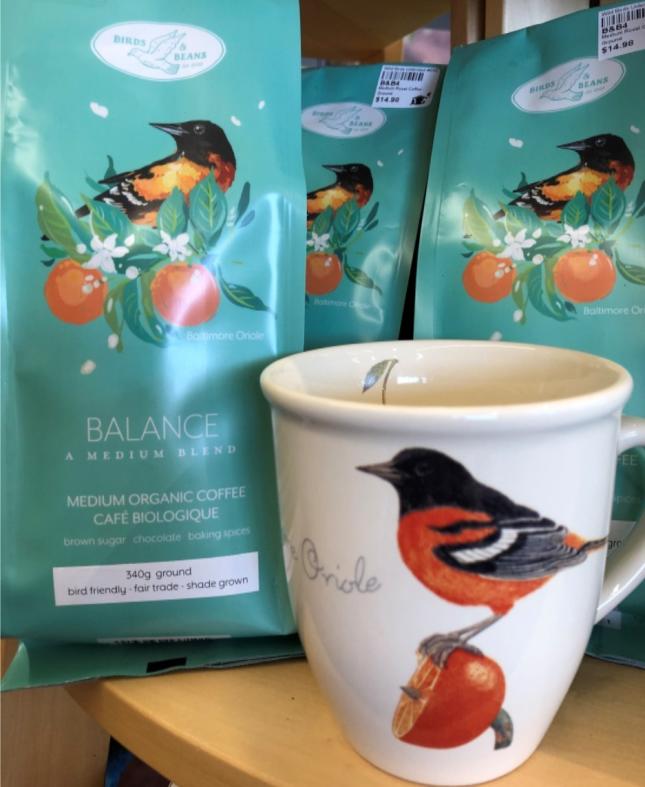 Bird-Friendly Coffee: Along with the free mug that comes with the membership, why not add some bird-friendly coffee from Birds and Beans to your gift of a Wild Birds Unlimited membership. Help the birds with your morning brew!!
Click here to see more of our products and gift-giving ideas.