987 Gordon Street
Guelph, ON N1G 4W3
Behind Tim Hortons

(519) 821-2473
Serving You Today Until 4:00 pm
| | |
| --- | --- |
| Monday | 10:00 am - 4:00 pm |
| Tuesday | 10:00 am - 4:00 pm |
| Wednesday | 10:00 am - 4:00 pm |
| Thursday | 10:00 am - 4:00 pm |
| Friday | 10:00 am - 4:00 pm |
| Saturday | 10:00 am - 4:00 pm |
| Sunday | 12:00 pm - 4:00 pm |
Paul Grant, Val Wyatt Franchise Store Owners
View Our Store Site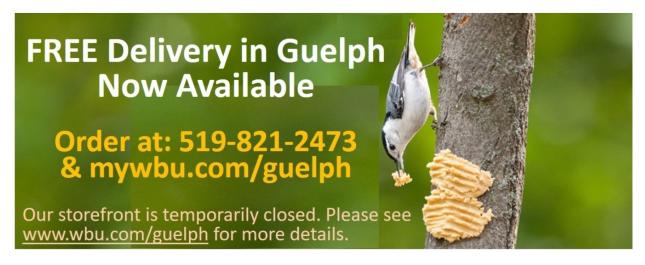 We have made the very difficult decision to temporarily close the Wild Birds Unlimited Guelph store to foot traffic. However we will continue to take orders online and by phone for home delivery only, so you can keep your birds fed at this exciting time of the year! Please see the information below for details. We look forward to hearing from you soon!
Ordering Online and By Phone at Wild Birds Unlimited Guelph
Due to the ongoing health concerns regarding COVID-19, we have decided to close foot traffic at Wild Birds Unlimited in Guelph. Our main concern is the health and safety of all of our customers and staff.
We are happy to continue offering two easy ways to order bird food and feeding supplies: online and by phone. We are offering FREE GUELPH DELIVERY on all orders over $40, before tax. Order less than $40 have a reduced shipping fee of $7.49 per order.
*Deliveries will be done same day or next day, depending on volume and availability.
Order Online!
We have many of our products available online at mywbu.com/guelph. You can add items to your cart and check out all through a secure online store.
*If you're a DSC member, be sure to use the email address we have listed on your account. Using the same email address allows you to get the DSC discount on food items, just like in-store.
If you're ordering online within Guelph and your subtotal before tax is above $40, choose 'in-store' pick up and we will happily deliver the order to your door at no charge. Just write "Delivery please!" in the comment section of the order and we will bring it right to your door.
If you're ordering online outside of Guelph, you can receive free shipping on all orders above $99, before tax, within local FedEx shipping zones. If your shipping address is outside of the local shipping zones there will be extra shipping costs calculated at the time of checkout.
*Not all of our inventory is available in the online store. If there's something you're interested in that you aren't seeing online, give us a call at 519-821-2473. We can organize payment over the phone, and can add it to the other items ordered online.
Order by Phone!
Call us at 519-821-2473 to place a phone order. Please leave a message if we are unable to answer. We will be monitoring the phone closely and will respond to all voicemail messages.
Thank you so much for your continued business. We have had so much support and love from our customers this past week. We'll all get through this together, and we will reopen our front doors as soon as it's safe to do so.
Happy birdwatching,
Love the whole flock at Wild Birds Unlimited, Guelph

Attract Pollinators to Your Yard
Wildlife habitat gardens can support twice as much wildlife as conventional lawns or ornamental non-native plant gardens. Many pollinator populations are in decline, due to the loss of natural habitats and native plantings along with the impact of pesticide use. You can help pollinators survive and flourish by creating a pollinator-friendly environment in your yard.
Mason bees are all the buzz as an incredibly effective, native pollinator and are among the easiest bees to raise in your yard, while also being the safest due to their gentle nature.
Unlike honey bees, mason bees carry pollen on their bellies rather than on their hind legs, which helps to make them highly efficient pollinators. A single mason bee will visit between 1,600 to 2,400 blossoms daily, and pollinate over 90% of them. A female visits an average of 75 flowers per foraging trip.

Mason bees lay their eggs in tunnel nests that are constructed in abandoned holes created by wood-boring insects, hollow plant stems or artificial houses and tubes. Although mason bees are solitary, they are often gregarious and will nest near other mason bees. When building their nests, female mason bees use clay to build partitions and to seal the tunnel entrance. This unique mud-building behavior is what led to the name "mason" bee.

Mason bees are not aggressive towards people. You can watch them work without fear of being stung. Mason bees are metallic blue, black or green in color and about the same size as a house fly. There are 140 species of mason bees in North America.


---