What's New!!
For your birds, yourself or a gift for the nature lover in your life. We are always working on bringing new and exciting items into the store. Please check back often to see what has arrived.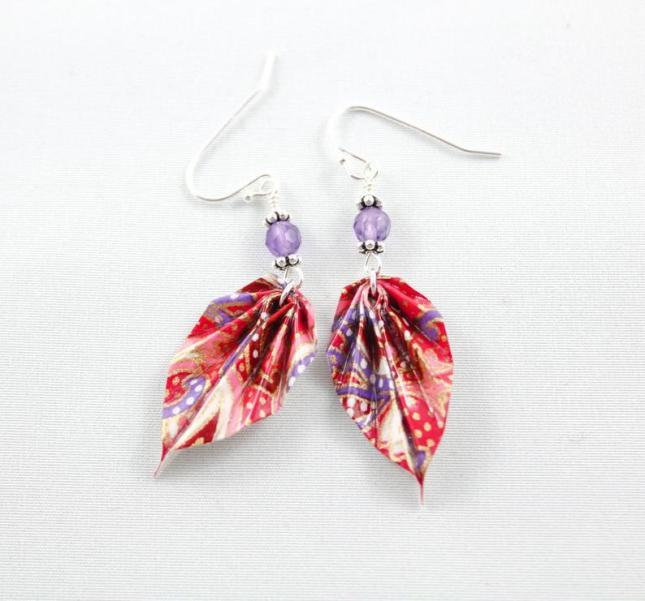 FoldIT Creations Jewelry: These beautiful & unique handmade origami earrings and pins are carefully made with fine Japanese papers using the art of origami. Made in Toronto they make the perfect, one-of-a-kind gift!
Earrings are available in folded leaf designs - Book Worm, Blue Leaf & Red & Purple Leaf. The origami, folded earrings are made from 100% Japanese Washi paper then coated in 5 coats of polymer. The metal used is nickel free.
Pins are available in 5 different Norrth American birds - Northern Cardinal, Hummingbird, Chickadee, Pileated Woodpecker & Blue Jay.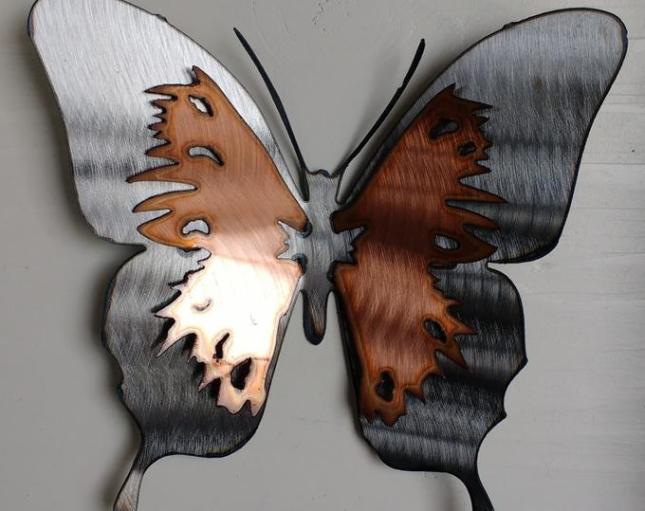 Metal Wall Art: These beautiful pieces of artwork are designed using hand-ground copper & steel. They are sealed to help prevent rusting & scratches. A variety of styles and sizes are available including butterflies, 2 sizes (shown), dragonfly, cardinal in tree, chickadee, chickadee in tree & a two pack of small hummingbirds.
Scramble Squares Puzzles: These puzzles may only have 9 pieces but they are perhaps the World's most challenging puzzle! Available in assorted designs! Makes a great stocking stuffer and fun to do as a whole family! Challenge each other to see how long it takes too!
Solmate Socks: Add some 'Solmate' to your step with these mismatched, multicoloured socks!! Made from recycled fabric waste comprised of production scraps & used clothing. We have added in some new, funky colours including Aloe, Mirage, Foxtail, Rainbow, Sandstone, Evergreen & this very cool Canada design (pictured here)! Come and check them all out! Life's too short for matching socks!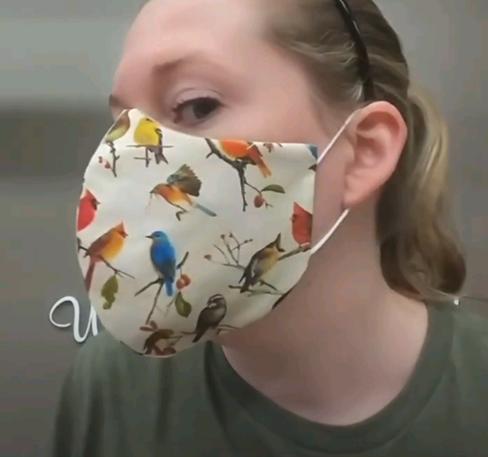 Face Masks: Stay safe and share your love of birds! We now have masks in stock. Locally made with care these masks have comfortable, soft, stretchy earloops. Available in a variety of patterns including native birds, birds & baths, owls, tropical birds, feathers & more! Patterns available may change based on fabric availability.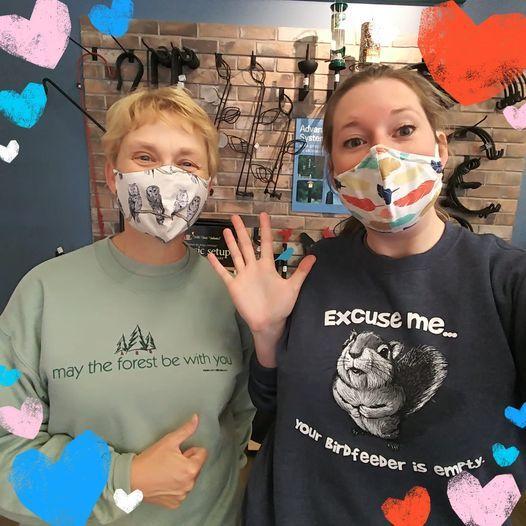 Sweaters! Just in time for sweater weather! We've got you covered with this comfy, cozy sweatshirts! Available in our most popular designs - Squirrel - Your Feeders Empty; May the Forest be With You & Winter is for the Birds! We also have t-shirts available in a variety of designs! Click here to see the t-shirt designs available.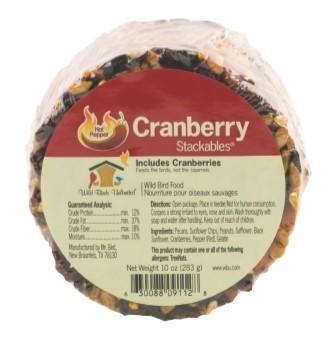 Hot Pepper Cranberry Stackable: Smaller and spicier version of our Cranberry Seed Cylinder, this new compact stackable contains hot pepper to help keep the squirrels away but offers some delicious treats for the birds. Contains nuts, sunflower, safflower & cranberries. Has a hole in the centre to fit our seed cylinder feeders. See all our hot pepper products here.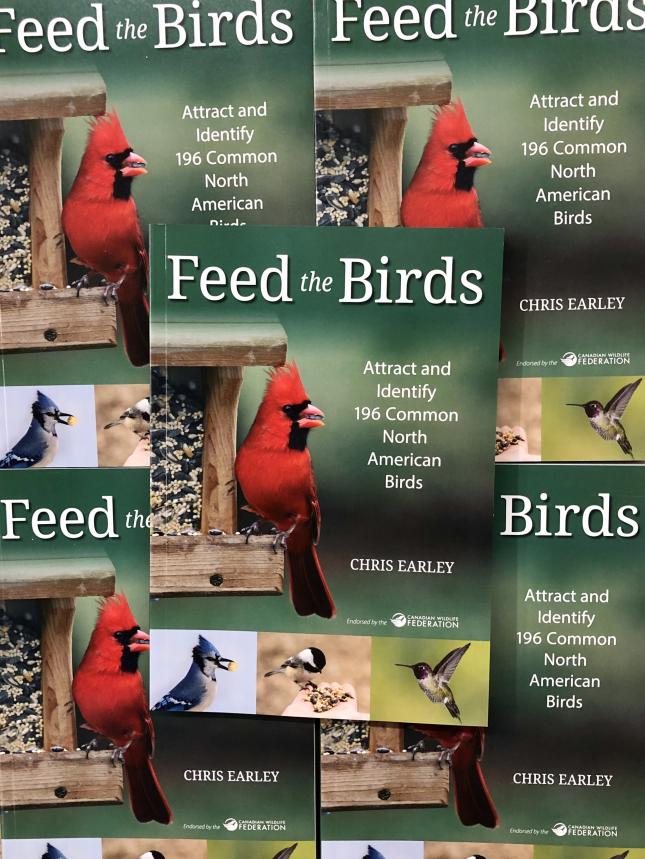 Feed the Birds: This great resource offers detail on 196 bird species that are attracted to backyard feeders. Learn about attracting birds to your backyard, bird behaviour & adaptations to the environment. Wonderful photographs help guide both the beginner and more experienced birdwatcher and backyard bird feeder. Written by Chris Earley - zoologist & environmental biologist. He is the Interpretative Biologist & Education Coordinator at The Arboretum , University of Guelph.Add this book to your birding resource library! Would make a great gift for the bird enthusiast in your life too!
Garden Flags: Display in your garden on one of our garden stakes or wall hangers. The perfect gift for your neighbour, family member, new home owner or for your very own garden or front porch. Winter flags now available! Pair a flag with a garden stake or wall hanger for a complete gift!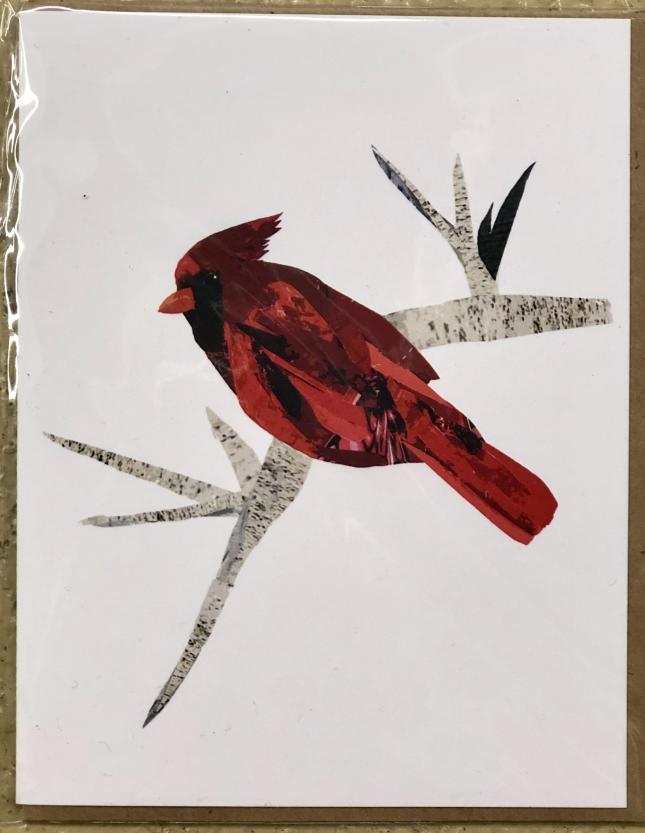 Notecards by Seeing Stars: These notecards come direct from Halifax, Nova Scotia. Designs by AKDoak who is originally from Belleville, Ontario! These are prints made from the artists original collages made from recycled material. The inside is left blank for your personal message. Also great for framing!! Size: 4.25"x5.5". Images available: Downy Woodpecker, White-breasted Nuthatch, Ruby-throated Hummingbird, Northern Cardinal, Black-capped Chickadee, Monarch Butterfly, Deer, Blue Jay, Red-winged Blackbird, American Goldfinch, American Robin