Just Arrived!!
For you and the birds, look what has just arrived! For your birds, yourself or a gift for the nature lover in your life. We are always working on bringing new and exciting items into the store. Please check back often to see what has arrived.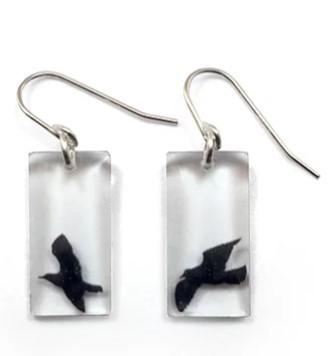 Earrings & Pendants: Handmade in Vancouver, BC these beautiful earrings and pendants are extra special. Handmade by Blackdrop Designs, the artist, Jade Pellerin, uses her love of nature, photography and design skills to produce beautiful jewellery. The jewellery is transparent which brings the focus onto the design. Choose from the gorgeous green tear drop palm pendant and matching earrings, bird silhouettes, trees and spring flowers! A gorgeous gift for Mother's Day, birthdays or a special purchase just for you!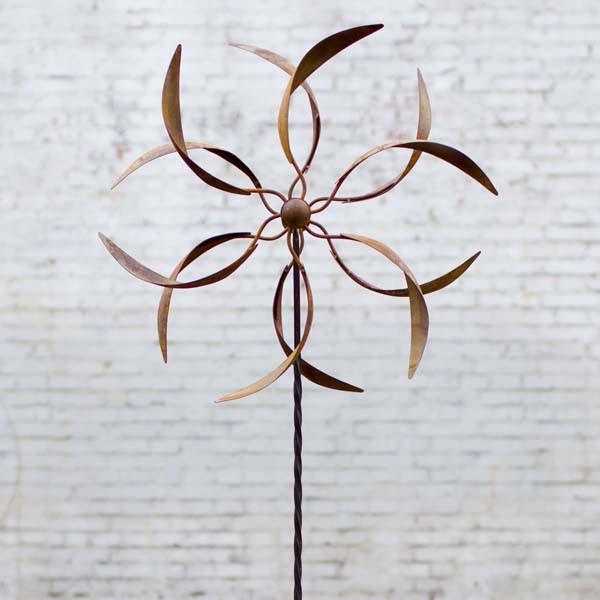 Garden Decor: From Rustic Garden come these gorgeous new garden metal stakes, rain gauges and wind spinners. Now is the perfect time to add some rustic charm to your outdoor space! Add this beautiful decor to any garden! The backyard season has arrived! Come and see all our designs!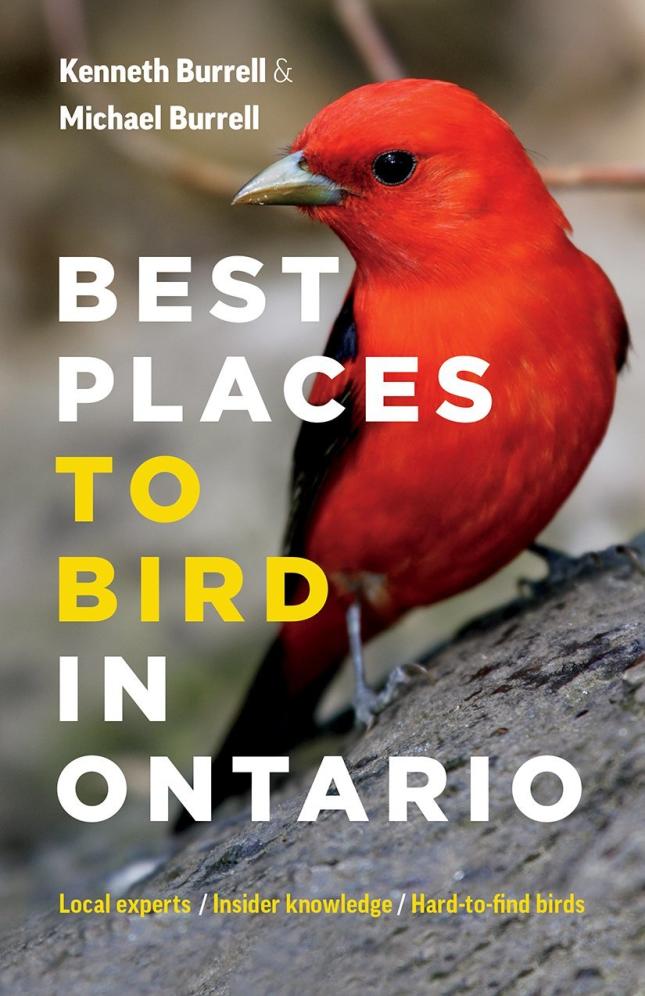 The Best Birding Spots in Ontario: Written by Mike and Ken Burrell, two of Ontario's top birders, this book outlines 30 of their personal favourite locations to enjoy Ontario's birds! From Point Pelee to Moosonee, Rainy River to Cornwall they offer tips for spotting unique species, when & where to go for the best results & more! The book includes maps, colour photos and lots of useful information perfect for both the first-time and experienced birder! We have some copies signed by the authors too! Get you copy now and enjoy birding throughout Ontario!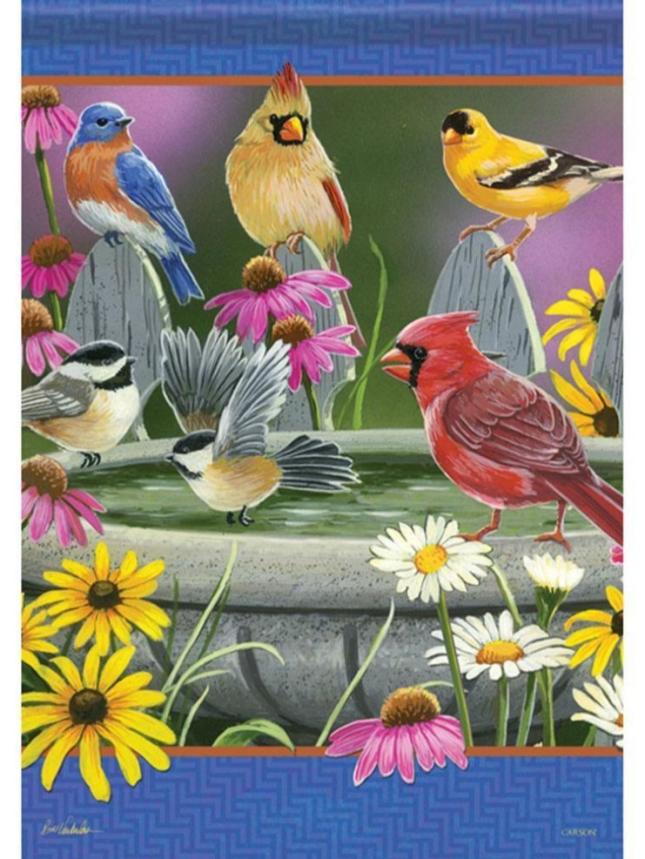 New Garden Flags: Just in time for Spring!! New Garden Flags have arrived. Add some beautiful colour to the garden with a flag. We have a garden stake or wall hanger to display your flag. A variety of new designs are available. The perfect gift for Mother's Day too!!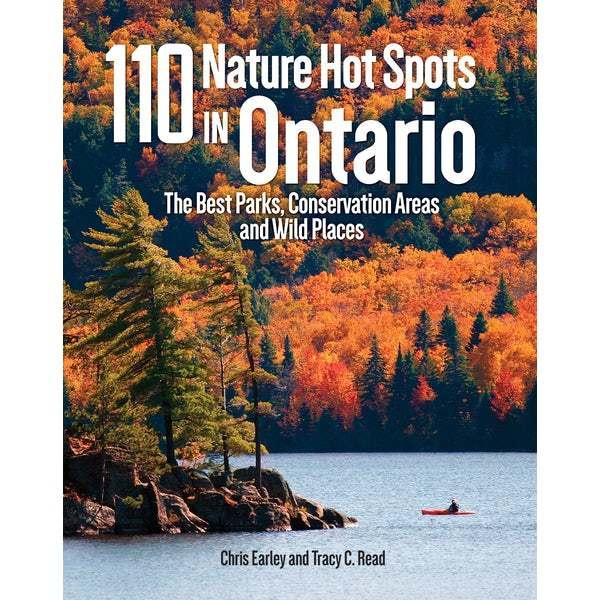 110 Nature Hotspots of Ontario: This revised edition of Chris Earley's original 100 Nature Hotspots has just arrived in stock! This is a great book for your summer outings - listing some of the best spots for walks through nature in Ontario! Could be a perfect gift for Mother's Day or Father's Day! We'll even wrap it for you too!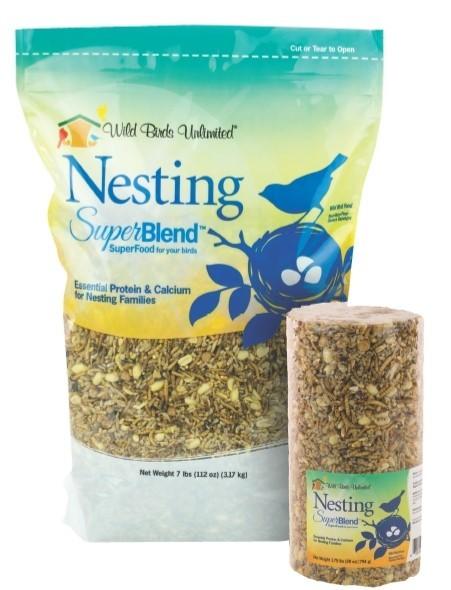 Nesting SuperBlend™: Be seasonally savvy with this new Nesting SuperBlend™!! It offers a super-boost of protein and calcium for birds' nesting & molting needs. A birds need for calcium and protein substantially increases during nesting season. When they obtain a sufficient amount of protein and calcium, it can greatly benefit the health and number of eggs, and is crucial for muscle and feather development. Offer this new blend alone or mixed with your current blend. It is packed full of sunflower chips, peanuts, dried mealworms, bark butter bits, safflower, tree nuts and calcium! Read more about nesting and how to help your birds during nesting season here.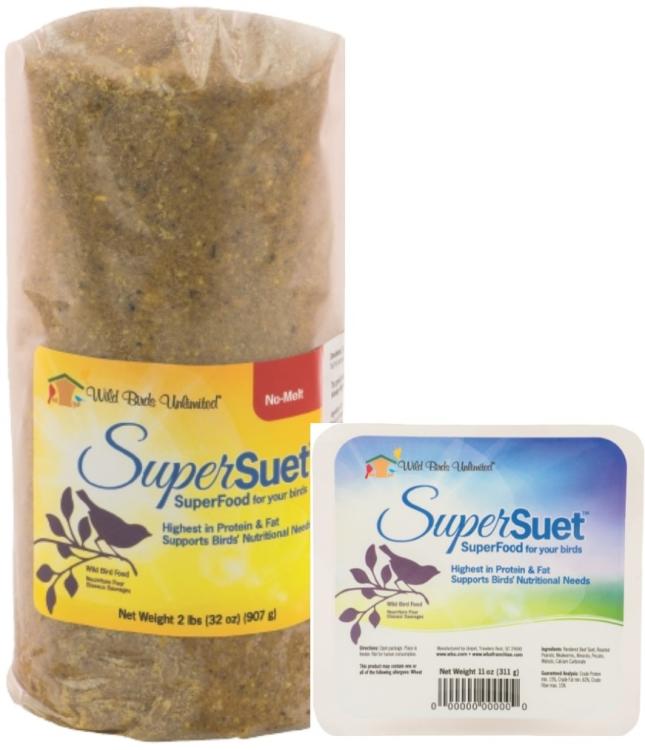 SuperSuet™: Suet equals energy! This high-fat, high-calorie food is a favourite of many insect-eating birds, including woodpeckers, chickadees and nuthatches. SuperSuets contain the highest protein and fat levels of any suets on the market. They provide the extra protein, energy & calcium needed for nesting families & summer feather molting as well as the extra fats to help birds through fall and winter. The super ingredients include mealworms, peanuts, almonds, pecans, walnuts & calcium. It is available in regular and hot pepper varieties as well as in suet cakes and suet dough cylinders.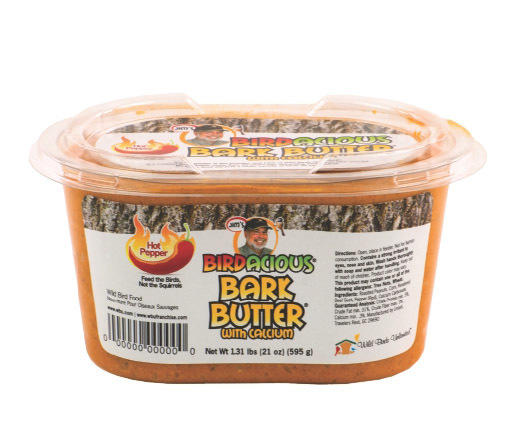 Hot Pepper Bark Butter & Bark Butter Quickbites: Feed the birds, not the squirrels with this new hot pepper variety of our ever popular Bark Butter! Spread it on a tree or on our Bark Butter feeder! Available in a tub or a box of 'Quickbites' - a box of 8 single-use, handy cups of spreadable Hot Pepper Bark Butter! No need to touch the product, just peel off the lid and place in a feeder for birds to enjoy! See all our Hot Pepper products here!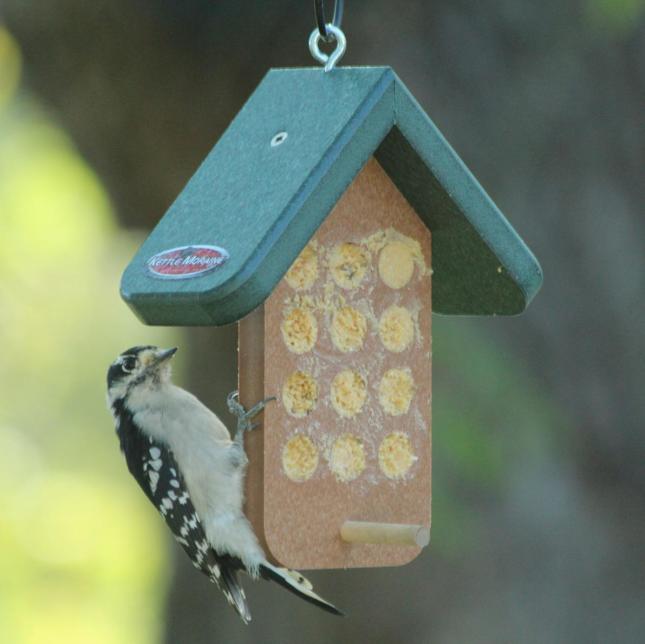 Bark Butter Feeders: These new feeders have just arrived! Created by Jim Carpenter, founder of Wild Birds Unlimited, Jim's Birdacious® Bark Butter® is a spreadable suet that has attracted more than 140 different bird species, including many that do not normally visit feeders.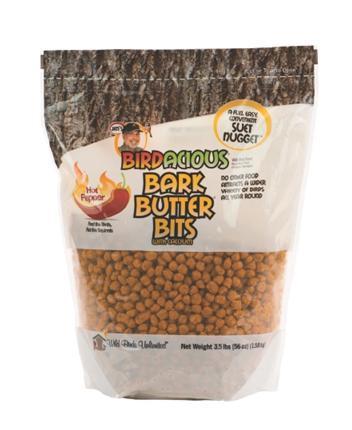 Hot Pepper Bark Butter Bits: Many of our customers have already been offering these popular little bird treats already. If you have squirrel issues it can be a challenge but now these suet nuggets come in a hot pepper variety too! Birds still love them, but the squirrels don't! Give them a try - they are high in protein and great all year round. Click here to see our full range of hot pepper products - they might just be the solution you've been looking for!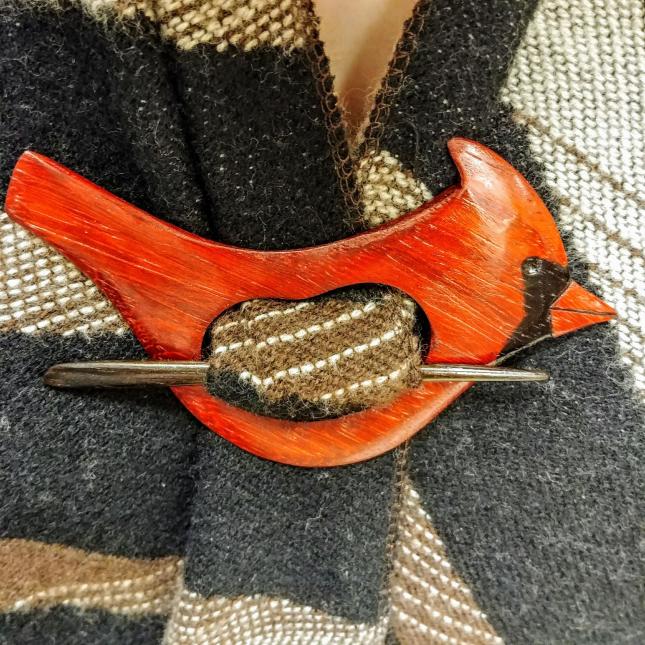 Scarf Pins: These beautiful scarf pins are handmade in Hanover, Ontario out of a variety of wood types. Styles include chickadees, cardinals and a NEW Cedar Waxwing!!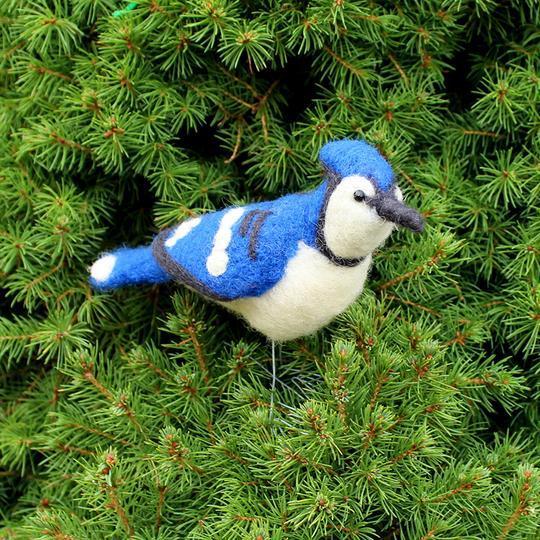 Beautiful Felting Kits: Get creative with these beautiful felting kits! Direct from The Lunenburg Makery in Nova Scotia, each boxed kit includes everything you need to make a bright, beautiful felt creation! Each kit includes: Step-by-step instructions, pattern, 100% natural sheep's wool roving, 3 felting needles, beads, thread (for eyes) and wire for legs. We have a variety of kits including a Blue Jay (pictured), Piping Plover, Burrowing Owl, Snowy Owl & a Puffin! (click on each to see image)