Attracting Birds with Water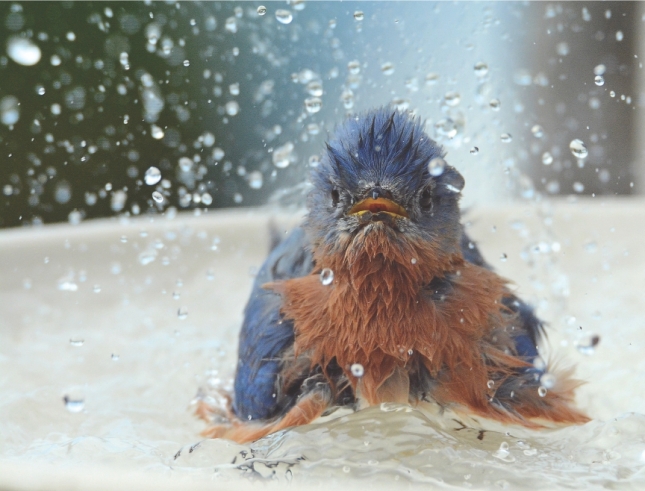 A year-round water source is one of the 12 Elements of a Thoughtful Bird Feeding Station and is one of the major components of any backyard habitat. Adding water to your backyard will increase the number of birds that will come to visit. It is almost as important as food. Birds not only use water for drinking, but also for keeping their feathers clean.
During extreme heat birds have difficulty regulating their own body temperature. They don't sweat and cool down through their respiratory system and will need to replenish this lost fluid.
In the winter, keeping their feathers clean and healthy can help a bird stay warm. They will puff their feathers up helping to insulate their bodies. You may have seen a chickadee that looks more like a puff ball than a bird in the middle of our cold winters. Research has shown that a chickadee with well-maintained feathers can sustain a 21° C layer of insulation between the outside air and its skin.
Bird Baths & Accessories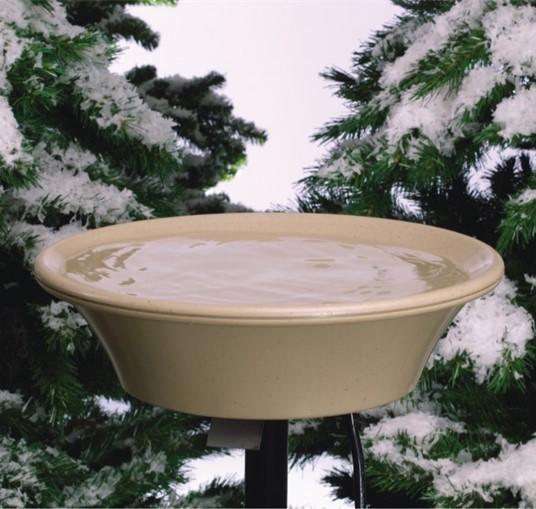 Heated Bird Batlh
This 14" heated bird bath offers birds access to open water. Operates using a thermostat to stop water from freezing when the temperature dips below 0ºC. Pole and deck clamp included. Also fits our 14" metal stands or EZ Attach bird bath ring.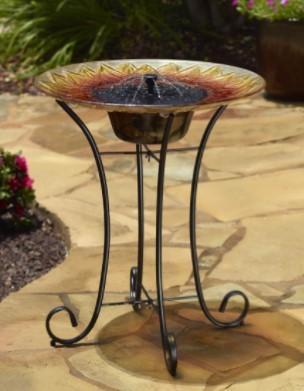 AquaNura Solar Fountain Bird Baths - Sunflower
These beautiful bird baths come with stand and a solar insert. Add movement to your bird bath to attract more birds!
The solar inserts operate in direct sunlight only.
Solar birds also available in Bedrock and Perello designs.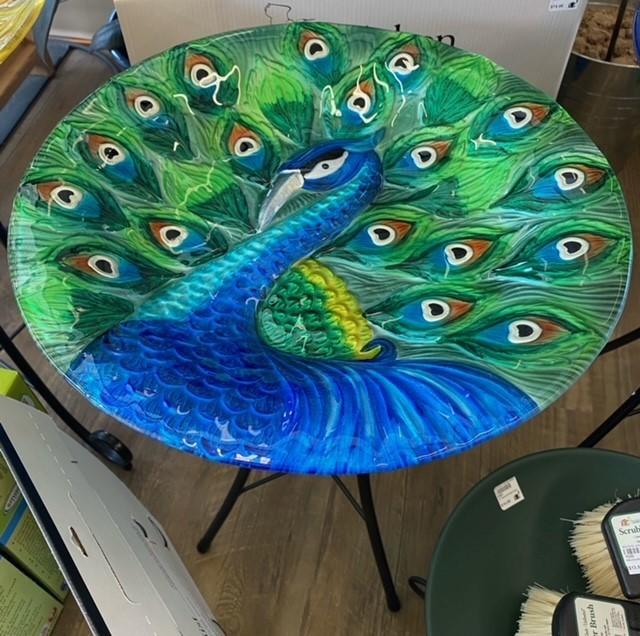 Glass Peacock Bird Bath with Stand
This beautiful glass bird bath is 16" in diameter and sits at a height of 23". Comes with stand.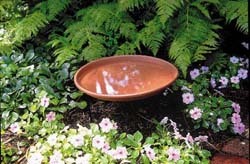 Bird Bath Trays and Stands
Trays & stands are available in 14" and 20" diameter. Stands come in tall (26" high), and short (11" high) sizes: 14" bird bath holders are available as a wall/post mount or EZ attach to an APS pole system (1" diameter pole). Plastic tray available in green.
Pole mounted 20" Bath Setup
Photo shows a 20" Heated Bath in a bird bath holder mounted on top of an Advance Pole System base pole with an EZ attach perch branch added.
A secure option that can be made to whatever height you desire!
Accessories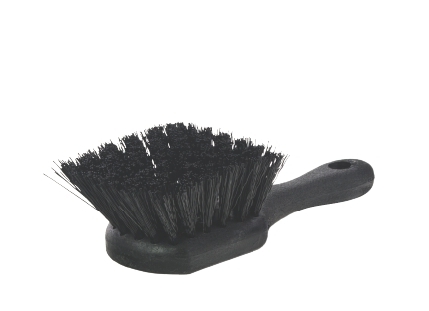 Scrubber Brush
Regular cleaning will help reduce algae and is good for your birds' health. Scrub your bath regularly with our EcoTough® Scrubber Brush, rinse well, and replace with fresh water.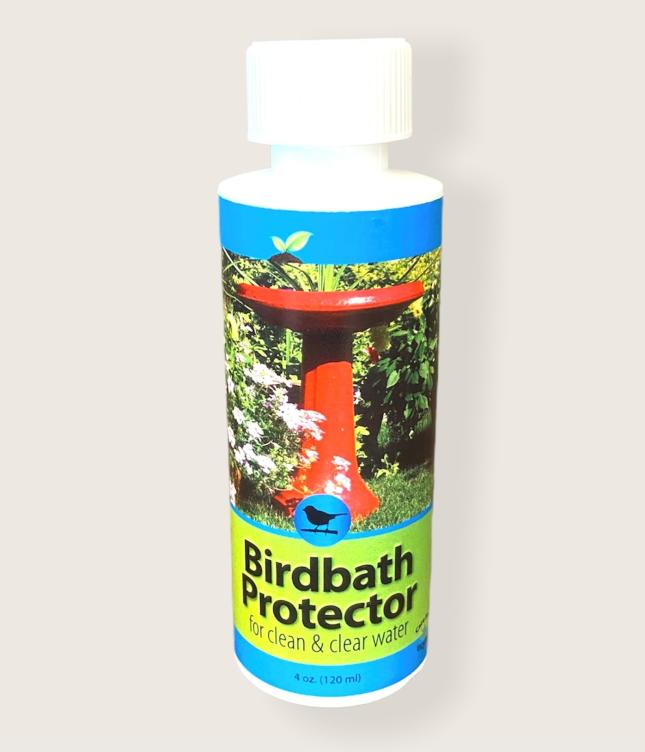 Bird Bath Protector
Prevents stains, sludge & mineral deposits. Start with a clean bird bath. A capful will treat 1 to 5 gallons of water. Environmentally safe for birds, pets & wildlife.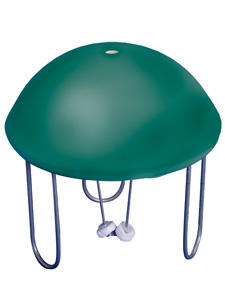 Water Wiggler
Moving water gets a bird's attention. The Water Wiggler™ creates ripples in your bird bath, announcing the water's presence while preventing mosquitoes from laying eggs. No plumbing is required. Available in standard & solar battery options.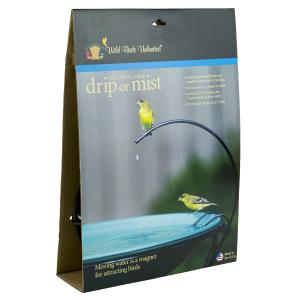 Drip-or-Mist
When most people think of providing water to birds, they think of a bird bath. Birds are attracted to the sound of moving water. Attaching a dripper or mister to your bird bath provides a source of moving water which backyard birds find irresistible! Many birds such as chickadees, finches and titmice will land on the dripper spout and creep down to the end and lean over to take a drink!