Hikes & Events
Nature in the City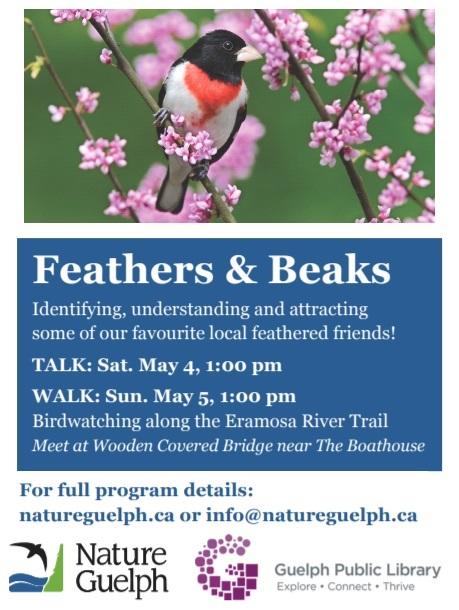 Are you new to Guelph? Perhaps you are ready to start exploring nature, but unsure where to start? Or want to meet like-minded nature lovers in your community? Nature in the City is a series of free, public programs run by Nature Guelph every spring that can help you dive in to nature in the Royal City. A series of indoor programs at the Guelph Public Library are followed by free guided outdoor programs. Bring your friends and family, and learn about the natural world in your own backyard, while meeting other people in Guelph!

Feathers and Beaks: Identifying, understanding and attracting some of our favourite local feathered friends! The talk and walk are family-friendly and perfect for beginners, so join Nature Guelph and learn more THIS WEEKEND!

TALK: Sat. May 4, 1:00 pm, Guelph Public Library

WALK: Sun. May 5, 1:00 pm, Birdwatching along the Eramosa River Trail. Meet at Wooden Covered Bridge near The Boathouse.
Learn more about Nature in the City FREE events here!
Join Us for our Next Bird Hike:
Marvelous Migrants!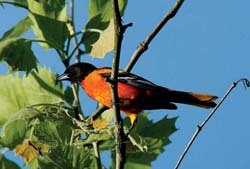 Want to go birding but don't know where to start? Let us help! Wild Birds Unlimited has planned an introductory bird hike just for you. We're hoping to see some exciting spring arrivals on our first hike of the season!!

Sat May 18th at Eramosa River Trail (off Victoria Road)
We will meet in the Wild Birds Unlimited parking lot for 8:00am, returning approximately 10:30am. We will carpool as necessary. Hike is weather permitting. There will be binoculars available to loan, but bring yours if you have them. Come enjoy the birds with us!
Call 519-821-2473 to register for this free hike today!
Chickadee Day 2019!!
Thank you to everyone who joined us on our annual Chickadee Day this year. We had a wonderful time making crafts, listening to a reading of Frank Glew`s `That Chickadee Feeling` and then heading to Starkey Trail to hand feed the chickadees!
Checkout all the great photos from the day on our Chickadee Day Facebook Photo Album here!


Stay tuned to this page and like us on our Facebook page to keep up to date on on all our hikes and events!