Advanced Pole System
Our very own Advanced Pole System® is designed to be the most versatile feeding system. Because it is comprised of interchangeable parts, you can select the setup that will work best for your own backyard, and attract the birds you want.
Read our brochure on the Advanced Pole System to learn more about all the possibilities!

Step 1: Plant It
Start with the 4-foot base pole that screws into the ground about 12 to 16 inches. Slide the stabilizer onto the base pole, which will keep your setup standing straight!
Step 2: Extend It
With our Advanced Pole System, you can customize your setup to be whatever height you need. Extension poles come in 1 foot lengths, and "lock" together with thumb tabs.
Step 3: Accessorize It
Choose a Double Crook Arm, or a Single Crook Arm. If you ever want to add more feeders, it's easy to add another hook with our EZ Attach Single Crook Arm.
Add a suet cage with an EZ Attach adapter; attach a Decorative Branch Perch to add flair and accommodate more birds; top it all off with a Decorative Finial of your choice!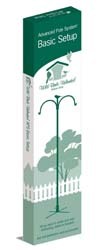 APS Boxed Set
Conveniently packaged all together, this Boxed Set gives you the basic set-up of a 7-foot tall pole system with two crook arms and a Chickadee silhouette finial to finish it off. If you ever want to add more feeders, you can easily add on later!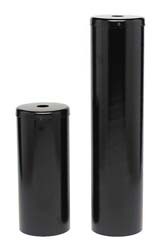 Baffle the Squirrels (and Raccoons)!
To squirrel-proof your pole system, add a Squirrel or Raccoon baffle; this creates a dead-end when they try to climb up the pole. The top of the baffle should be at least 5 feet off the ground, and the pole system itself should be about 10 feet away from any tree or fence the squirrels or raccoons can leap from.
Decorative APS
Create a bird-feeding setup with style, or add a Decorative Arm or Extension to your existing setup! Our Decorative APS is features leaf detailing and a decorative extension to add some flair.
Some of the many possibilities...

APS Hummingbird Setup
Use the Advanced Pole System to create a station specifically for Ruby-throated Hummingbirds! This example shows a system with two hanging baskets full flowers attractive to hummingbirds, along with a WBU Hummingbird Feeder. Attached to the pole is a WBU Mini-Mister, which you can wind around and set to mist wherever you want - hummingbirds love to flutter bathe in the mist of water! Top it all off with a hummingbird finial.
APS Bird Bath Setup
Using the APS extension poles, you can make this Decorative Birdbath whichever height you desire. Add a Decorative Branch to give the birds more perching space as they wait their turn to drink or bathe. Attach a water dripper & mister to create the ultimate birdbath!
APS Basic Mounting Hardware
Have a bird house or hopper feeder that needs to be mounted? We have a Boxed Set available for a basic mounted setup, with a combo flange that allows a feeder or house to be mounted either vertically or horizontally. Add a Squirrel or Raccoon Baffle to critter-proof your bird house or feeder.