Peanut Feeders
Providing peanuts is a great addition to the choices you offer your backyard birds. Peanuts are a high-energy food and are enjoyed by a wide variety of birds such as woodpeckers, nuthatches, chickadees, jays and more. Many of their visits will be to carry peanuts off and cache them for a later meal.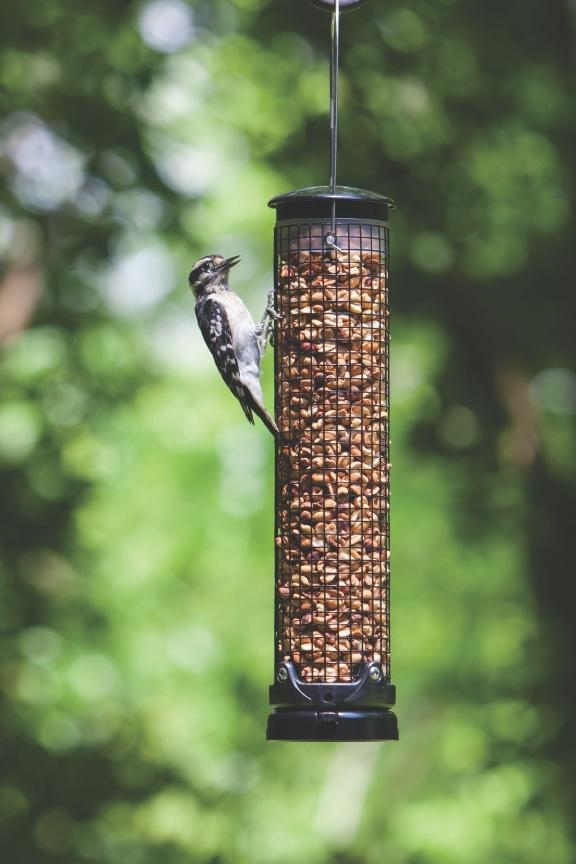 Quick Clean Mesh Peanut Feeder
You can attract those peanut-loving birds with our Mesh Peanut Feeder. The Mesh Peanut Feeder is designed to hold peanut pieces. This easy-to-fill and easy-to-hang bird feeder is a breeze to use. It has a quick clean base for easy cleaning too! Our lifetime guarantee on the feeder also covers squirrel and raccoon damage. (Bird food not included.)
Comes in small and medium feeder sizes.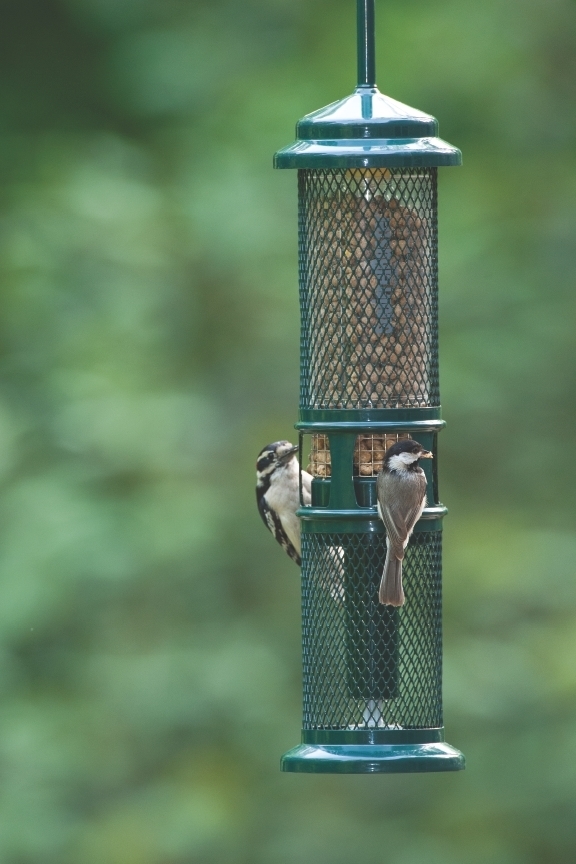 Peanut+ Squirrel-Proof Peanut Feeder
The world's first squirrel-proof no-shell peanut feeder! Now you can feed the woodpeckers and nuthatches without fattening up the squirrels in your neighbourhood. The feeder's weight-sensitive shroud is adjustable, to exclude larger birds (like Jays) if desirable and has a tail prop to offer a comfortable clinging position for the woodpeckers. Use no-shell peanuts, bark butter bits or combine the two to offer your birds a high energy treat! (bird food not included).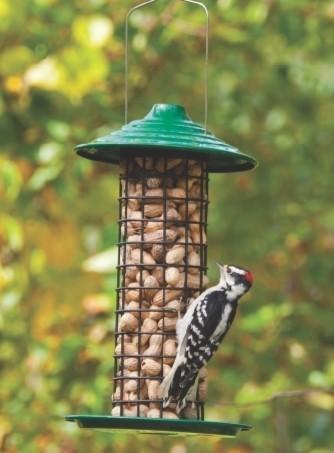 Peanut Hut
Our Peanut Hut is the ideal way to offer peanuts in the shell. The large mesh openings are designed to allow the peanuts to be removed easily by peanut-loving birds, including woodpeckers, nuthatches, chickadees and jays. The Peanut Hut is easy to fill, and its tray accommodates perching birds and helps keep empty shells from falling to the ground.
(Peanuts in the shell not included).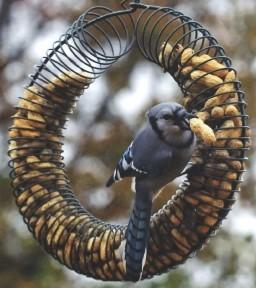 Peanut Wreath
Hang this bird feeder in your favorite tree and watch peanut loving birds, such as jays and woodpeckers, fly in for a meal. It's durable, yet it remains flexible so birds can pull out the whole peanuts. Multiple size openings make it possible for a variety of birds to feed. This versatile bird feeder is also great for offering suet balls or nesting material. Available in two colours - red or green!
(Peanuts in the shell not included).
Peanut Ball Feeder
This Peanut Ball Feeder is easy to fill and hang, and will accommodate all of your nut-eating birds, such as chickadees, woodpeckers and nuthatches. Made of powder coated metal, the Peanut Ball Feeder can also be used to offer suet nuggets or nesting material.
(Bird food not included.)