Hummingbird & Oriole Feeders
Our hummingbird feeders - the world's best hummingbird feeder - offer hummingbirds a place to hover or perch while feeding. Most of the hummingbird feeders have a built-in ant moat to deter crawling insects. They are easy to clean and come with a lifetime guarantee.
Nectar Recipe: This is suitable for both hummingbirds and orioles. 4 parts water to 1 part sugar. Boil the water, add the sugar. Make sure all sugar is dissolved and the nectar mix is completely cooled before putting it into the feeder. You can make a batch and keep the remaining mixture in the fridge for up to 2 weeks using our WBU nectar bottle (see below)!
Shop online for all your hummingbird products at MyWBU.
Feeders for Hummingbirds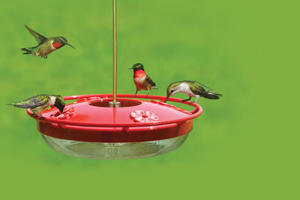 WBU High-Perch Hummingbird Feeders: These specially designed feeders have a high perch provides better views of the bird! They also have a built-in ant moats to keep bugs out and feeding ports that prevent rain water from diluting the nectar solution. They're easy to hang or pole-mount and easy to clean (top shelf dishwasher safe). They're also backed with a lifetime guarantee.
These hummingbird feeders come in 8oz or 12oz sizes.
WBU Mini Hummingbird Window Feeder: With our Decorative Window Hummingbird Feeder, only a window pane stands between you and "the jewels of nature" — hummingbirds. This feeder is easily mounted to any window with two suction cups, and its clear bottom allows you to see hummingbirds quickly lap up the nectar solution. The Decorative Window Hummingbird Feeder features three feeding stations and a moat that, when filled with water, will keep ants and other crawling insects out of the feeder. It's also easy to clean and comes with a lifetime warranty (even if it falls to the ground).
WBU Decorative Hummingbird Feeders: These feeders are easy to clean and come complete with a lifetime guarantee. They also have a built-in ant moats to keep bugs out and feeding ports that prevent rain water from diluting the nectar solution. They're easy to hang or pole-mount and easy to clean (top shelf dishwasher safe).
These hummingbird feeders come in 8oz or 12oz sizes.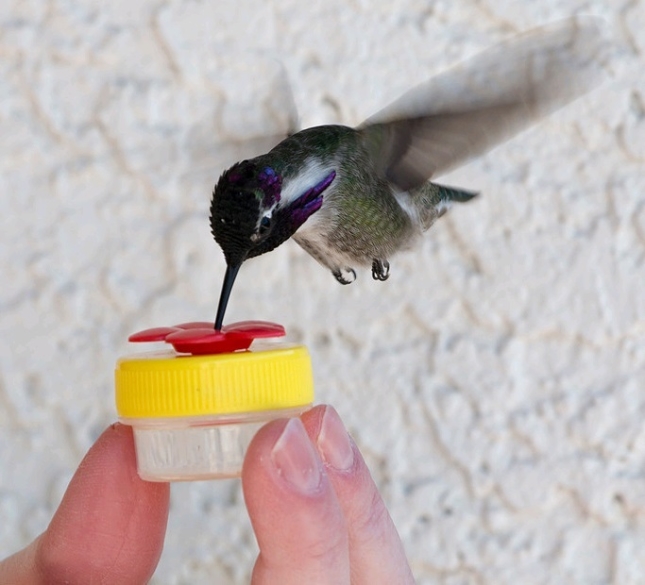 Nectar Dot Hummingbird Feeder: This hand held hummingbird feeder is one of the smallest hummingbird feeders out there! Simply wash the feeder and fill it with nectar. Set the feeder on a windowsill or railing near an existing feeder. Stand near the feeder quietly and hold the Nectar Dot as a feeding source. Be sure to stay still and…you're feeding hummingbirds by hand!
Also available in a large sized Nectar Dot and a Window Nectar Dot Feeder.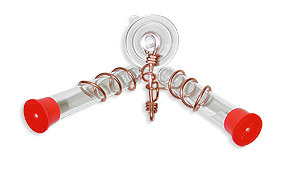 Window Tube Hummingbird Feeder: This hummingbird feeder attaches right to your window that lets you get up-close views of hummingbirds! These
Available in single or double designs.
Orioles Feeders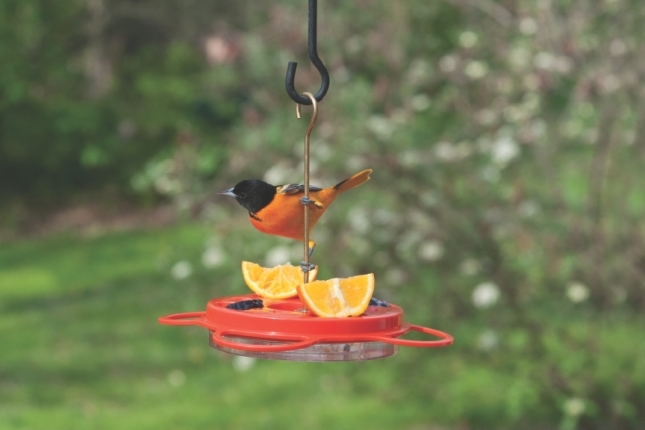 WBU Oriole Feeder: Our oriole feeder offers nectar with several feeding stations, including spaces in the lid for grape jelly and a place for an orange half. It's easy to hang and dishwasher safe. It also comes with a lifetime guarantee.
Accessory: Add on bee guards to help prevent the flying insects from getting into your nectar!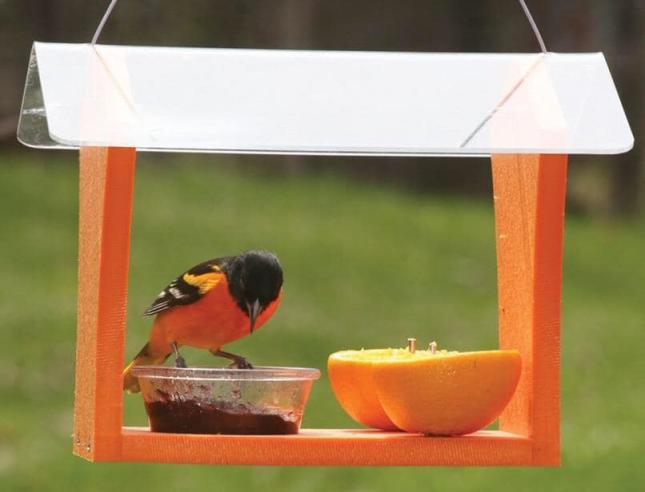 Recycled Oriole Feeder: Made of recycled material this Oriole feeder offers feeding locations for grape jelly and orange halves. It has a polycarbonate roof to for weather protection.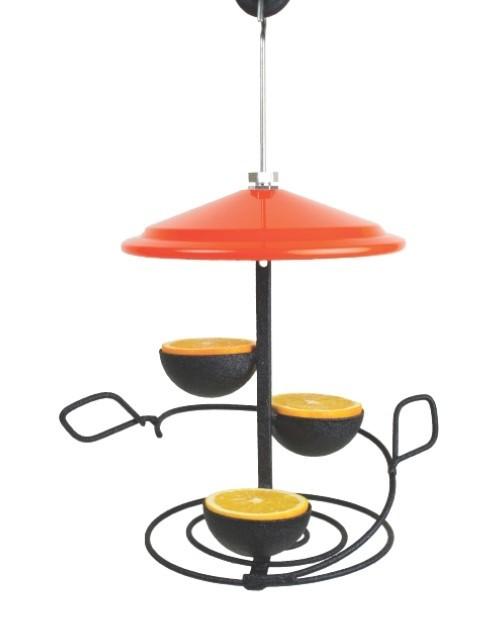 Orange Spiral Treat Tray: This multi-purpose feeder offers three cups for oranges and a curved perch branch. The orange lid is perfect for attracting the orioles! Use it for other treats too - such as bark butter bits, seed, Hot Pepper Quickbites. Available with an orange or green lid.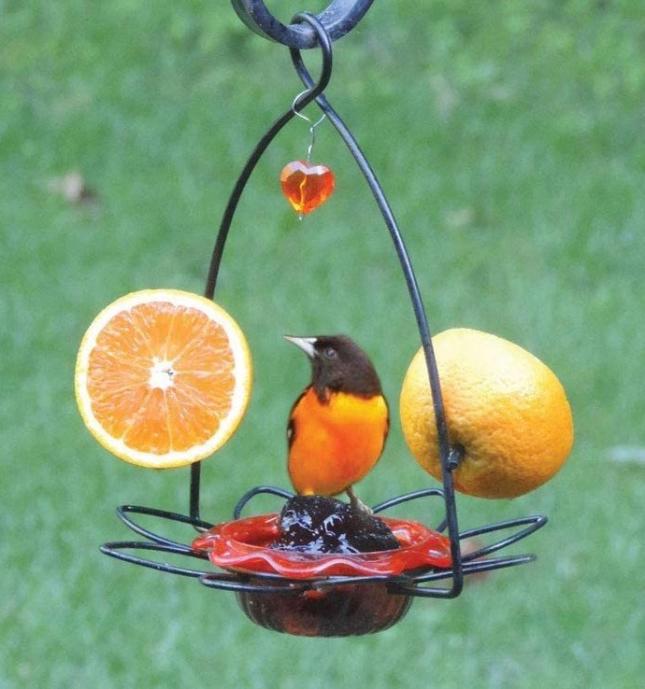 Oriole Flower Feeder: This beautiful feeder has an orange dish that is perfect for jelly. It also has two stakes that fit orange halves, as well as a decorative flower and orange pendant to help make this the perfect way to attract orioles to your yard this year!
Accessories: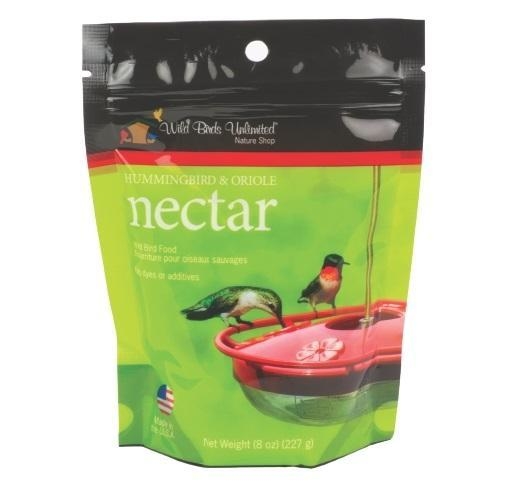 WBU Hummingbird and Oriole Nectar: Serving a nectar solution in feeders will supply a dependable source of energy that is comparable to the flowers on which they naturally feed. Our WBU nectar is a high-energy nectar solution keeps Orioles and Hummingbirds robust and healthy. It is 100% pure, safe, nutritious and beneficial with no dyes or additives.
Use with a Nectar Bottle for easiest results!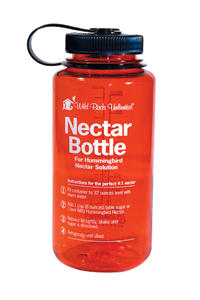 WBU Nectar Bottle: The easiest way to make the perfect hummingbird nectar solution. Simply fill the container with warm or hot water, add one cup of table sugar or one box of WBU Hummingbird Nectar, replace the lid and shake until the sugar is dissolved. Use your new nectar solution right away, or use the bottle to store it in the fridge. The Nectar Bottle is top rack dishwasher safe, is BPA free and can hold 4 cups (1 Liter) of nectar.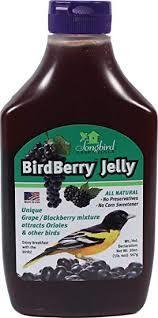 BirdBerry Jelly: This jelly is made from a unique grape and blackberry mixture, perfect for attracting orioles! This all natural jelly contains no preservatives and no corn sweetener like other jelly products, so you know you're feeding your orioles the very best! Comes in a 20oz squeeze bottle.
Trap-It Ant Moat: Are you having trouble with ants getting into your nectar feeder? Simply fill this Trap-It Ant Moat with water and hang above any nectar feeder and stop crawling insects and ants from getting into your nectar!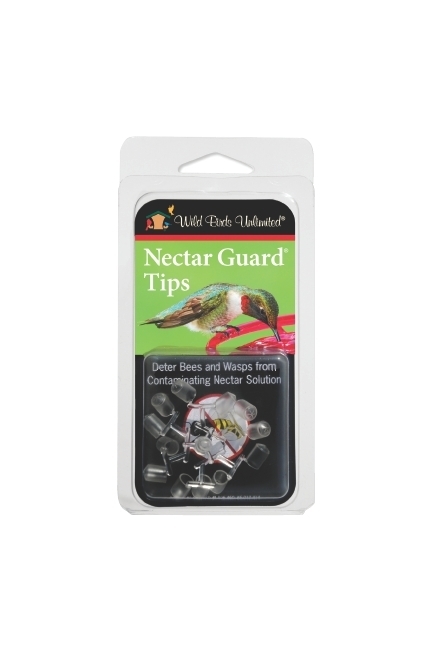 WBU Nectar Guard Tips: The WBU Nectar Guard Tips protect nectar solution from bee and wasp by creating a barrier that deters bees and wasps. Tips easily slide onto the feeding ports on the underside of the feeding cover. Each tip has a flexible center that opens when a hummingbird inserts its beak to feed and closes tightly when it removes its beak.
The WBU Nectar Guard Tips come in a package of 12 and fit onto any of our WBU Hummingbird Feeders.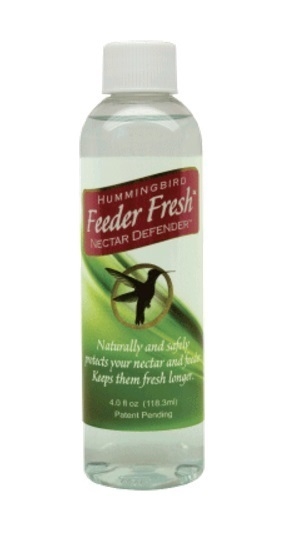 Hummingbird Feeder Fresh Nectar Defender: A new way to keep your nectar fresh! The experts and naturalists at Wild Birds Unlimited have tested this product for years and we are very excited to offer Hummingbird Feeder Fresh. Hummingbird Feeder Fresh protects the birds and prevents nectar spoilage naturally. It contains a mineral micronutrient, copper, that keep nectar fresh much longer. This same mineral micronutrient is part of a hummingbird's and oriole's natural diet of nectar and insects. With no artificial additives, colours or preservatives, this all-natural, bird-safe product also helps prevent cloudy nectar, which can put off your backyard hummers and orioles. Feeder Fresh Nectar Defender protects your nectar for weeks, and hummingbirds and orioles will enjoy fresh nectar every time they visit your feeder.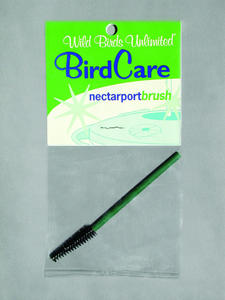 WBU Bird Care Nectar Port Brush: The WBU Bird Care Nectar Port Brush is designed to clean hummingbird or oriole feeder ports, bee guards and many other small areas.