How to Attract Blue Jays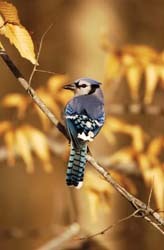 Vibrant in both colour and personality, the Blue Jay is an exciting visitor to a backyard. Their clownish antics are very entertaining to watch, especially as they tend to move around in groups, especially in the autumn, and their social behaviour is quite dynamic.
Jays will cache seeds and nuts to retrieve later, making repeated trips to feeders to gather food and hide it in a safe spot. They tend to select only undamaged nuts for caching, and seem to prefer seeds and nuts in shells.
Blue Jays like to eat: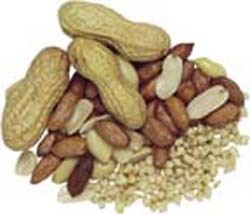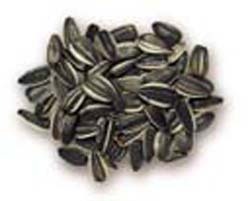 Peanuts Striped Sunflower


Feeders for Blue Jays: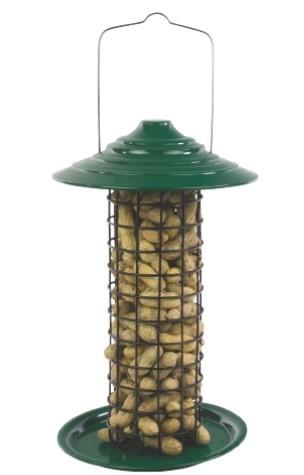 Peanut Hut
The Peanut Hut is the ideal way to offer peanuts in the shell. The large mesh openings allow the peanuts to be removed easily by your birds! Blue Jays, woodpecker, nuthatches and chickadees love peanuts! It is easy to fill from the top and the tray at the bottom provides perching birds a place to stop.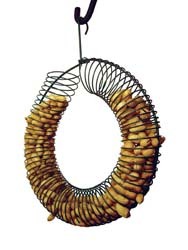 Peanut Wreath
A great choice for offering in-shell peanuts! Hang this wreath from a tree and watch the Blue Jays (as well as woodpeckers) fly in for a meal. The powder-coated metal makes this feeder durable, yet it remains flexible so birds can pull out the whole penauts. Multiple size openings make it possible for a variety of birds to feed.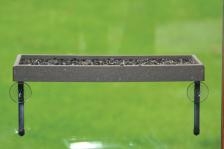 Window Tray Feeder
Watch the jays come right up to your window to select which peanut they'll fly off with next! The strong suction cups ensure that this feeder will stay in place for a long time. Available in a longer double sized version. A roof can be purchased as a separate item.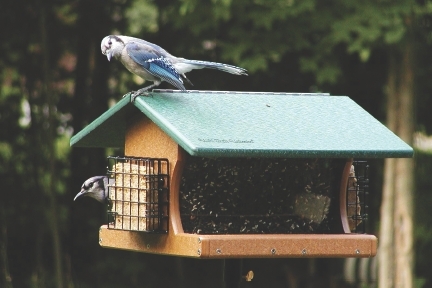 WBU Ranchette Feeder
Place a Ranchette in your backyard bird-feeding setup and get ready to count the birds! With a variety of food sources, you're likely to attract many different species, from Jays to Chickadees, and Woodpeckers to Nuthatches. The hopper holds 1 1/2 gallons of seed, and you can place suet, fruit or in-shell peanuts in the two side cages.



Accessories & Options: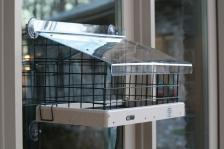 Window feeder Cage and Roof:
The optional cage attachment for the window tray feeders will help keep larger birds and squirrels away, while the roof helps keep snow and rain away.