What you can offer your birds
Wild Birds Unlimited is dedicated to offering fresh, high-quality seed - the best in the market. We believe your birds shouldn't have to search through the fillers contained in most discount seed blends to find the food that they actually want. More importantly, we believe you shouldn't have to pay for the fillers.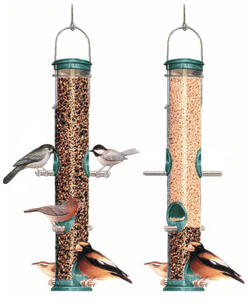 100% seeds bird prefer 75% grain filler
We do not include filler grains like oats, wheat and milo that decrease the price per pound of a mix, because these filler seeds are less attractive (or not at all attractive) to birds. Because there is no wasted seed, our blends actually end up costing less to use while attracting more of the birds that you want to watch!
How to Attract the Greatest Variety...
Wild birds have different tastes and feeding preferences just like humans. To attract the birds you want to your backyard, it is important to provide the birdseed that these birds prefer in a location that is conducive to feeding.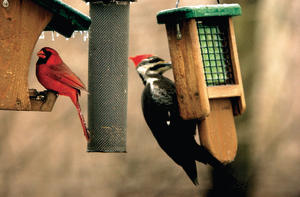 Some birds prefer to feed on the ground, whereas other birds prefer an elevated feeder. The type of feeder used combined with the right kind of seed is the best way to attract the greatest variety of birds.
Download a copy of our Seed Preference Guide to learn which birds like which seed, and the feeders that are best to offer the different kinds of seed. Check out these popular types of foods to offer your birds: