Just Arrived!!
For you and the birds, look what has just arrived! For your birds, yourself or a gift for the nature lover in your life. We are always working on bringing new and exciting items into the store. Please check back often to see what has arrived.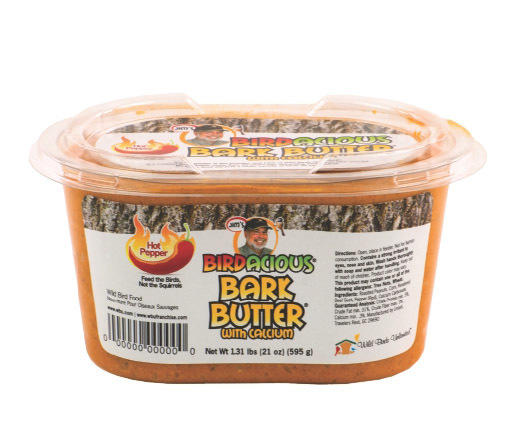 Hot Pepper Bark Butter & Bark Butter Quickbites: Feed the birds, not the squirrels with this new hot pepper variety of our ever popular Bark Butter! Spread it on a a tree or on our Bark Butter feeder! Available in a tub or a box of 'Quickbites' - a box of 8 single use, handy cups of spreadable Hot Pepper Bark Butter! No need to touch the product just peel off the lid and place in a feeder for birds to enjoy! See all our Hot Pepper products here!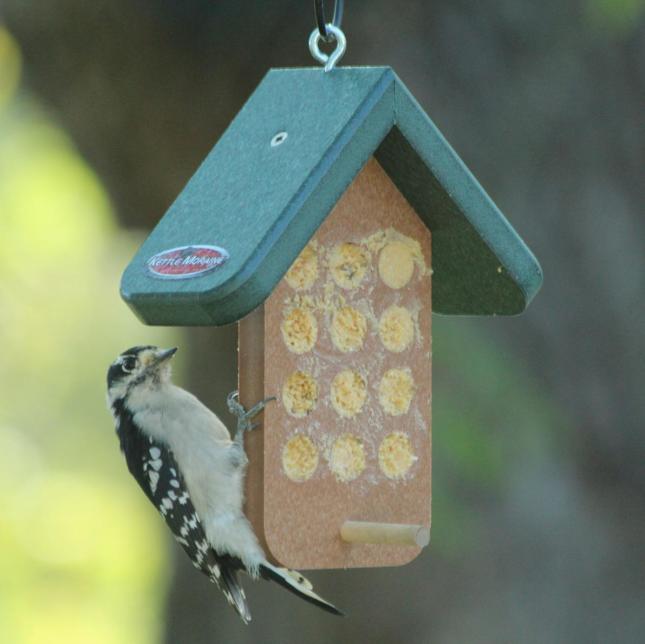 Bark Butter Feeders: These new feeders have just arrived! Created by Jim Carpenter, founder of Wild Birds Unlimited, Jim's Birdacious® Bark Butter® is a spreadable suet that has attracted more than 140 different bird species, including many that do not normally visit feeders.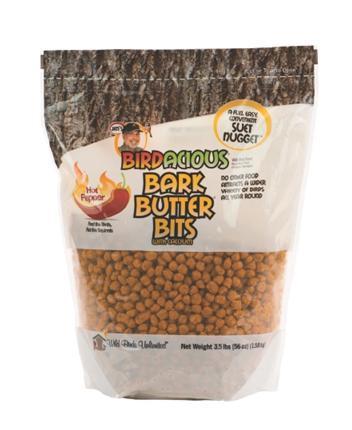 Hot Pepper Bark Butter Bits: Many of our customers have already been offering these popular little bird treats already. If you have squirrel issues it can be a challenge but now these suet nuggets come in a hot pepper variety too! Birds still love them, but the squirrels don't! Give them a try - they are high in protein and great all year round. Click here to see our full range of hot pepper products - they might just be the solution you've been looking for!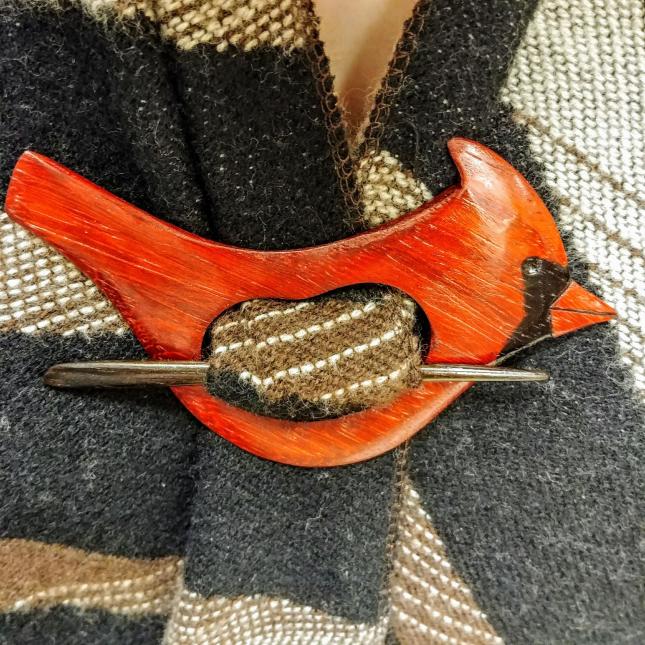 Scarf Pins: These beautiful scarf pins are handmade in Hanover, Ontario out of a variety of wood types. Styles include chickadees and cardinals.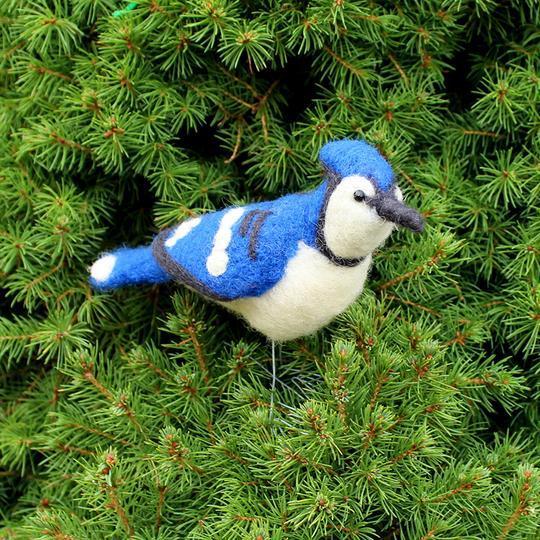 Beautiful Felting Kits: Get creative with these beautiful felting kits! Direct from The Lunenburg Makery in Nova Scotia, each boxed kit includes everything you need to make a bright, beautiful felt creation! Each kit includes: Step-by-step instructions, pattern, 100% natural sheep's wool roving, 3 felting needles, beads, thread (for eyes) and wire for legs. We have a variety of kits including a Blue Jay (pictured), Piping Plover, Burrowing Owl, Snowy Owl & a Puffin! (click on each to see image)
Garden Flags: Add some colour to your garden with every season! Come in and check out all the beautiful designs -- including winter flags - Snowman, Christmas Tree, etc. - one for every season. These make a great gift! Add a garden stake or wall bracket to display your chosen flag.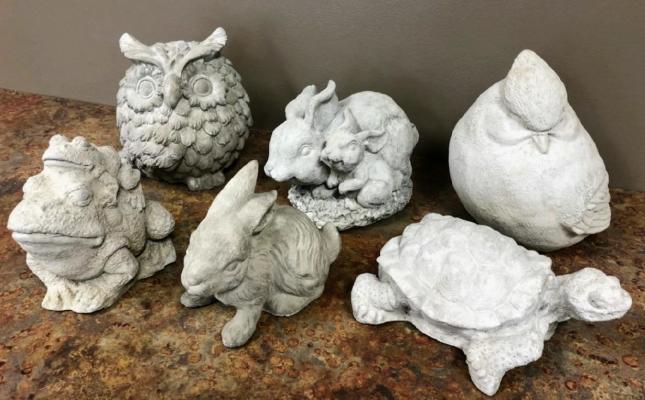 Garden Creatures: These cute, Ontario made, precast, garden ornaments will add some character to any garden. Made for outdoor use and to withstand the Canadian winters so you can enjoy them all year round. Choose from - turtles, frogs, bunnies and birds! The perfect friend for anyone's garden!
Solmate Socks: Life's too short for matching socks! New designs are here - old favourites continue but why not add to the wardrobe with some new mismatching fun on your feet!!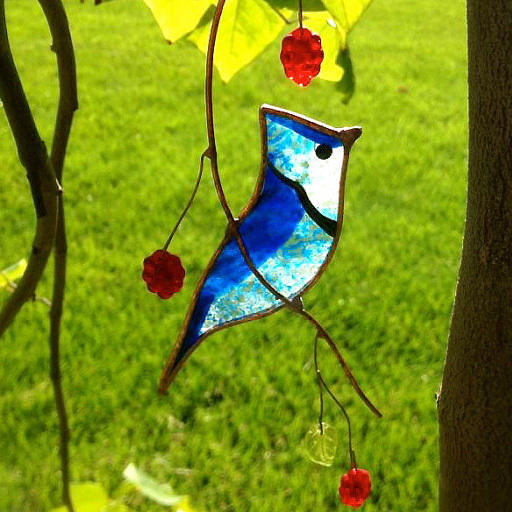 Stained Glass: Birds and Bugs stained glass is back! These beautiful designs are all handmade in Ontario. We have a variety of birds available including Blue Jays, Ruby Throated Hummingbirds, Northern Cardinals, Cedar Waxwing and more! A popular gift idea!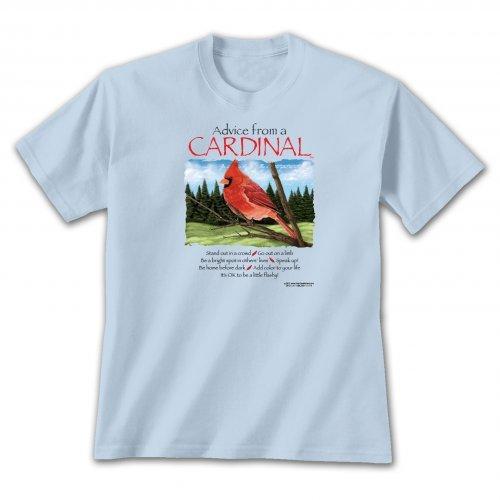 T-Shirts: New, fun t-shirts are here. A variety of designs from 'Crazy Bird Lady', 'Advice from...', 'May the Forest be with You'. Come in and see all the fun and colourful tops available.